Latest News
Strategic Plan
Details
The Strategic Plan provides insights into ACCAN's mission, values and strategic goals. The Plan will direct the organisation's work for the next three (3) years and sets out how ACCAN will achieve its mission of available, accessible and affordable communications that enhance the lives of consumers.
Download:

ACCAN Strategic Plan 2018-20211.36 MB
Download:

ACCAN Strategic Plan 2018-202152.18 KB
Reconciliation Action Plan
Details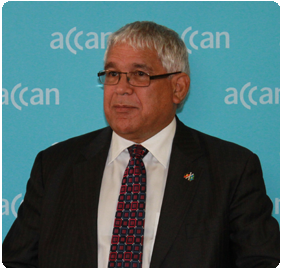 Aboriginal and Torres Strait Islander social justice commissioner Mick Gooda formally launched ACCAN's Reconciliation Action Plan (RAP) at the ACCAN offices in Sydney on 25 February 2013.
ACCAN developed its RAP to guide our engagement with Indigenous peoples and communities. We hope that a commitment to reconciliation by organisations such as ACCAN can help build an Australian society that values and respects Aboriginal and Torres Strait Islander peoples and cultures.
Find out how your organisation can begin its own RAP journey with Reconciliation Australia: http://www.reconciliation.org.au/home/reconciliation-action-plans
Download: ACCAN Reconciliation Action Plan 2013 [Word Document - 749 KB]
Download: ACCAN Reconciliation Action Plan 2013 [Adobe Acrobat PDF - 442.67 KB]
What is a Reconciliation Action Plan?
As described by Reconciliation Australia, a Reconciliation Action Plan aims to achieve the following:
A Reconciliation Action Plan (RAP) is a tool to help your organisation build positive relationships between Indigenous and non-Indigenous people.
RAPs give you a format for exploring how reconciliation can advance your business's organisational objectives.
RAPs are your public contribution towards the national effort to close the 17-year life expectancy gap between Indigenous and non-Indigenous children.
A RAP formalises your contribution by encouraging you to identify clear actions and realistic targets, as well as lessons learnt.
While each organisation shapes their own RAP, all plans include a creative blend of relationships, respect and opportunities.
Members Advisory Forum
Details
The purpose of the Members Advisory Forum (MAF) is to discuss the most important issues from the perspective of ACCAN's members and the people they represent, with a view to incorporating these into ACCAN's work priorities.
The function of the MAF is to:
Provide advice to ACCAN on priority issues for communications consumers and suggest strategies to achieve positive outcomes.


Discuss emerging technologies and policy developments in communications affecting consumers and identify potential relevance to ACCAN constituents.


Discuss relevant research to assist in the development of coordinated and unified consumer positions supported by an evidence base.


Act to bring information from consumers to the attention of ACCAN and to assist disseminate information from ACCAN to constituents.
Terms of Reference
Download:
Members Advisory Forum Terms of Reference68 KB
Download:

Members Advisory Forum Terms of Reference352.35 KB
Meeting reports
Jun 2020
Download:

MAF Meeting Report 202064.01 KB
Download:

MAF Meeting Report 2020279.99 KB
Apr 2019
Download:

MAF Meeting Report 201960.71 KB
Download:

MAF Meeting Report 2019957.7 KB
Mar 2018
Download:

MAF Meeting Report Mar 201862.74 KB
Download:

MAF Meeting Report Mar 2018640.12 KB
April 2016
Download:

MAF Meeting Report April 201657.98 KB
Download:

MAF Meeting Report April 2016534.89 KB
June 2015
Download:

MAF Report June 201566.17 KB
Download:

MAF Report June 2015.pdf555.38 KB