1. Introduction
ACCAN was formed as a peak body for consumers and consumer organisations on communications issues, including telecommunications and the internet. ACCAN has a central role in advocacy, research, training, consultation, the provision of policy advice and consumer education. One specific function of ACCAN is to administer the distribution of funding previously allocated by the Department of Broadband, Communications and the Digital Economy (section 593 grants).
Individuals and organisations joining ACCAN retain their identity and are able to advocate on their own or their members' behalf. ACCAN is an important forum in which consumer concerns and views can be debated and shared and, as much as possible, resolved.
The overarching objective guiding ACCAN isto ensure that communications are available, accessible and affordable for all Australians.
The ACCAN constitution was created in 2008 and amended in 2012.
The Strategic Plan provides insights into ACCAN's mission, values and strategic goals. The Plan will direct the organisation's work for the next three (3) years and sets out how ACCAN will achieve its mission of available, accessible and affordable communications that enhance the lives of consumers.
Download:

ACCAN Strategic Plan 2021-2024 1.35 MB
Download:ACCAN Strategic Plan 2021-202435.21 KB
2021-22 Annual Report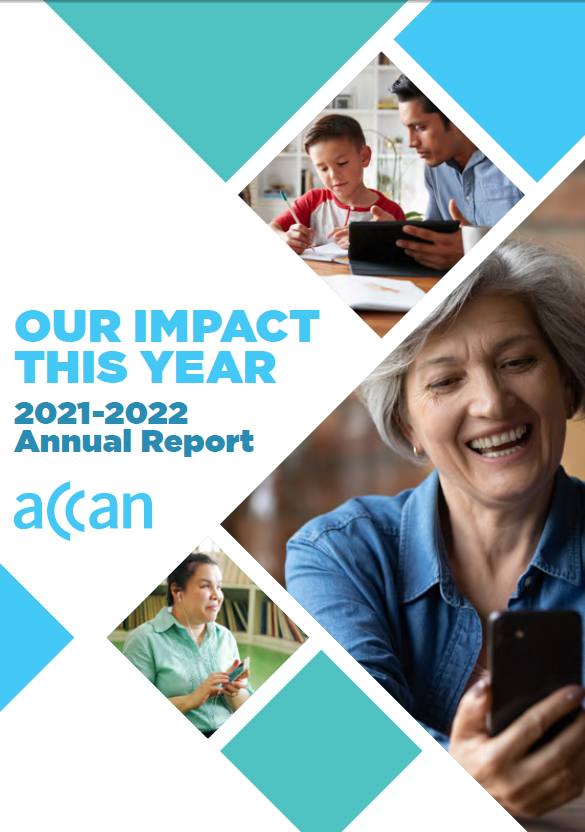 Like most organisations, much of the first part of the year was spent in lockdown conditions due to the ongoing COVID-19 restrictions. Fortunately, the ACCAN team has become well accustomed to remote working so we were able to continue operations with minimal disruption. A particular highlight was the delivery of our annual conference in a virtual format through a purpose built online conference platform. With almost 300 delegates in attendance, it was clear that this format allowed for much greater participation from stakeholders across the country, and even some international delegates, than has otherwise been the case.
ACCAN has actively contributed to a wide range of policy discussions throughout the year. While these are too numerous to mention in this report, some highlights include our work on the NBN Co. pricing review, addressing consumer data and privacy issues, and contributing to the triennial Regional Telecommunications Review.
The ever expanding interrelationship between traditional communications and digital platforms has resulted in ACCAN becoming more deeply involved in a range of issues. I am particularly proud of our initiatives to address the consumer impacts of online safety legislation, and our ongoing scam awareness education work in collaboration with industry and regulators.
We were pleased to receive funding via an auDA Foundation grant to develop a suite of consumer education materials to assist small businesses develop a greater understanding of cyber security issues, with particular emphasis on protecting their domain name security.
Our Accessible Telecoms service has continued to provide essential advice and guidance to consumers on telecommunications accessibility issues, amidst a backdrop of funding uncertainty. We greatly appreciate the support provided by industry and Government in keeping this service operational as we work together to develop a sustainable funding model.
Andrew Williams, ACCAN CEO, would like to express sincere thanks and gratitude to our members and stakeholders, and sees ACCAN's role as being able to represent your collective voice to advocate for better consumer outcomes. Your insight, advice, and guidance is invaluable and I look forward to meeting more of you in person in the near future, travel restrictions permitting.
The full 2021-22 Annual Report can be downloaded below.
Download:

Annual Report 2021-22 - Accessible version3.51 MB
Download:

AnnualReport 2021-22828.44 KB (note: reading order not accessible)
Download: Finanical Report (Will be uploaded after approval at 2022 AGM)
Through our Reconciliation Action Plan (RAP), ACCAN aims to:
build and maintain positive relationships and partnerships with Aboriginal and Torres Strait Islander peoples and communities;
ensure Aboriginal and Torres Strait Islander members and/or employees of ACCAN are valued for their unique perspectives and experiences;
support story telling as a culturally important form of communication for Aboriginal and Torres Strait Islander peoples;
assist in reducing the digital divide for Aboriginal and Torres Strait Islander peoples;
demonstrate culturally safe engagement with Aboriginal and Torres Strait Islander communities.
Our vision for reconciliation
ACCAN's vision for reconciliation is a united Australia that acknowledges its past and values the unique culture and heritage of Aboriginal and Torres Strait Islander peoples. Within our sphere of influence, we are committed to contributing to the elimination of systemic racism that Aboriginal and Torres Strait Islander peoples experience in Australia. In the context of our organisation, this means fighting for equitable communications access for Aboriginal and Torres Strait Islander peoples and communities, and ensuring we build a culturally safe workplace that celebrates the rich culture and history of our First Peoples.
Our RAP
ACCAN has developed this RAP to strengthen our engagement with Aboriginal and Torres Strait Islander peoples and communities, so that we can work with First Peoples to understand and represent their communication needs. Our RAP will help ensure that reconciliation is a key part of our organisation, embedded within our culture, policies and practices at every level.
Staff members from all sections and levels of the organisation are represented on the RAP Working Group (RWG). Membership of the RWG is voluntary. The job titles of the current RWG members are as follows: Director of Inclusion, Policy Manager, Economic Adviser, Grants and Research Manager, Media and Communications Manager and Policy Officer. The RAP is internally championed by our Director of Inclusion. Our RWG also includes former ACCAN Indigenous Policy Officer and member of the Yindjibarndi Nation, Michael Charlton, who has worked closely with ACCAN staff in the development of our RAP. Our Working Group aims to build relationships with local Aboriginal and Torres Strait Islander individuals and organisations with expertise in the telecommunications and digital communications technology sectors, and actively champions the implementation of the RAP in ACCAN's day to day work.
Download:

ACCAN Innovate RAP 2021-202377.42 KB
Download:

ACCAN Innovate RAP 2021-2023.pdf3.02 MB [not screen reader optimsed]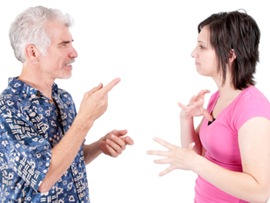 ACCAN values disability access. We want to be a model in this field, for other not-for-profits, industry and government. ACCAN has registered our 2022-2024 Disability Inclusion Action Plan with the Australian Human Rights Commission's Register of Disability Discrimination Act Action Plans.
Through enacting our Disability Inclusion Action Plan, ACCAN aims to:
As part of our funding contract, ACCAN is required to submit a report outlining our activities during each quarter. A summary of these reports will be published on this page.
---