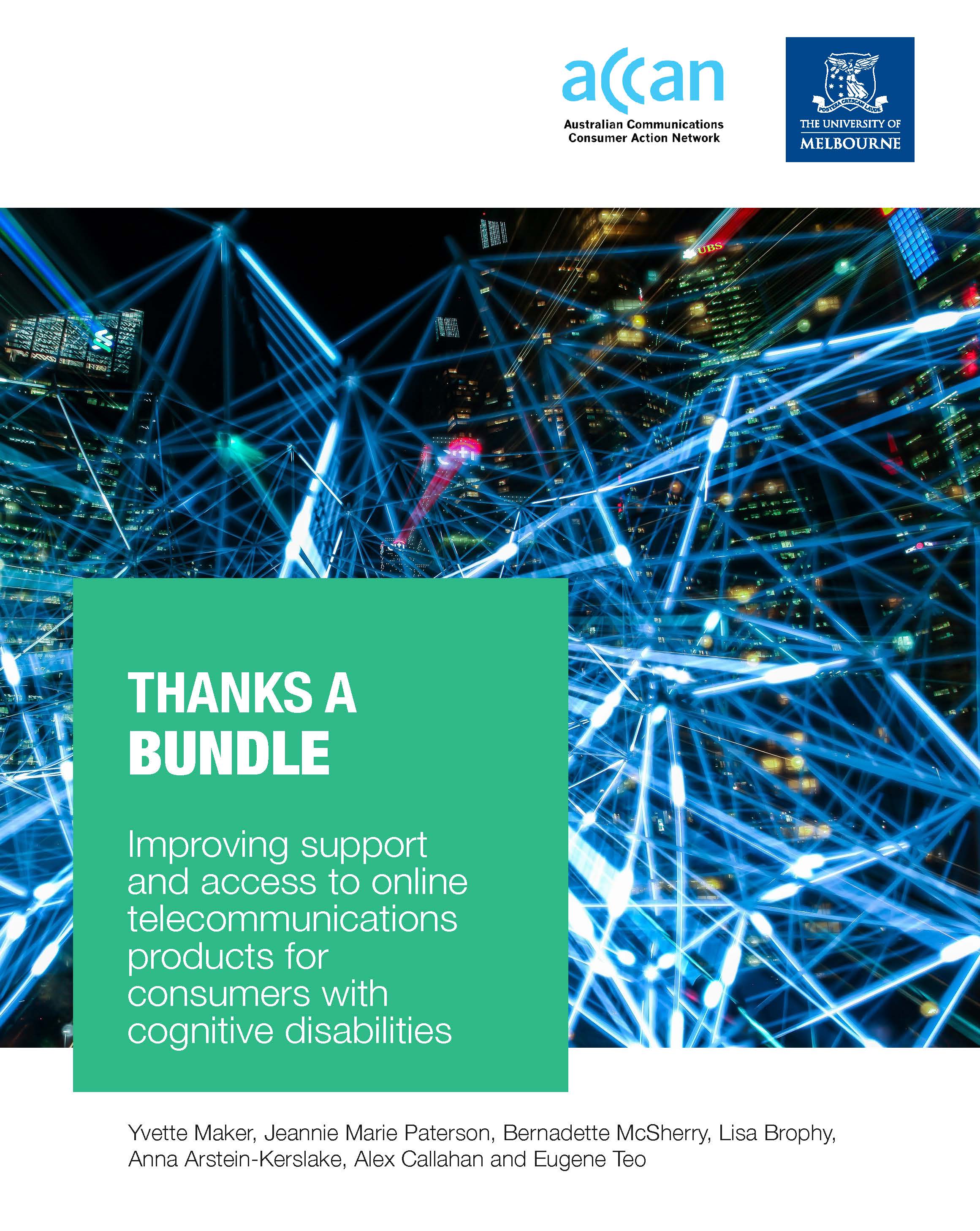 University of Melbourne, Melbourne Social Equity Institute
Grant round: 2017-18
Amount: $69,428
People with intellectual or psychosocial disabilities who experience decision-making impairment face a range of barriers when transacting for essential services, including telecommunications services. There is a lack of accessible pre-sale information and easy-to-read contracts, and little support available for engaging with providers.
Thanks a Bundle had three objectives. The first was to analyse the extent to which telecommunications providers' online information and sales materials currently comply with consumer protection law and disability rights. The second was to increase awareness among telecommunications providers of their legal obligations in relation to this group, as well as the corporate, social and economic benefits of making services more accessible. The third objective was to support better outcomes for consumers by providing practical guidance materials to telecommunications providers to make their information and sales material accessible for this consumer group.
Thanks a Bundle makes twelve recommendations for telecommunications suppliers for improving their online information and sales materials for consumers with cognitive disabilities. These recommendations range from website accessibility to easy english formats and creativity in information presentation - and emphasise the importance of including people with disabilities in the design process.
The findings were produced as a Research Report, a Summary Report, and in an Easy English Report which packages the findings in an accessible and jargon-free way. Thanks a Bundle also produced a Toolkit which is available for download at the Melbourne Social Equity Institute's website.
For more information about the research team and to download resources, visit the Melbourne Social Equity Institute project page.

Download:

Thanks a Bundle Report5.65 MB
Download:

Thanks a Bundle Report7.63 MB
Download:

Thanks a Bundle Summary Report1.53 MB
Download:

Thanks a Bundle Summary Report163.41 KB
Download:

Thanks a Bundle Easy English Report3.71 MB
Download:

Thanks a Bundle Easy English Report2.64 MB