IN THE NEWS: ACCAN Board announces Andrew Williams as CEO, Optus, regional consumers benefit from 2022-23 federal budget, but immediate action on affordability needed, and more.

This week
IN THE NEWS: ACCAN Board announces Andrew Williams as CEO, Optus, regional consumers benefit from 2022-23 federal budget, but immediate action on affordability needed, and more.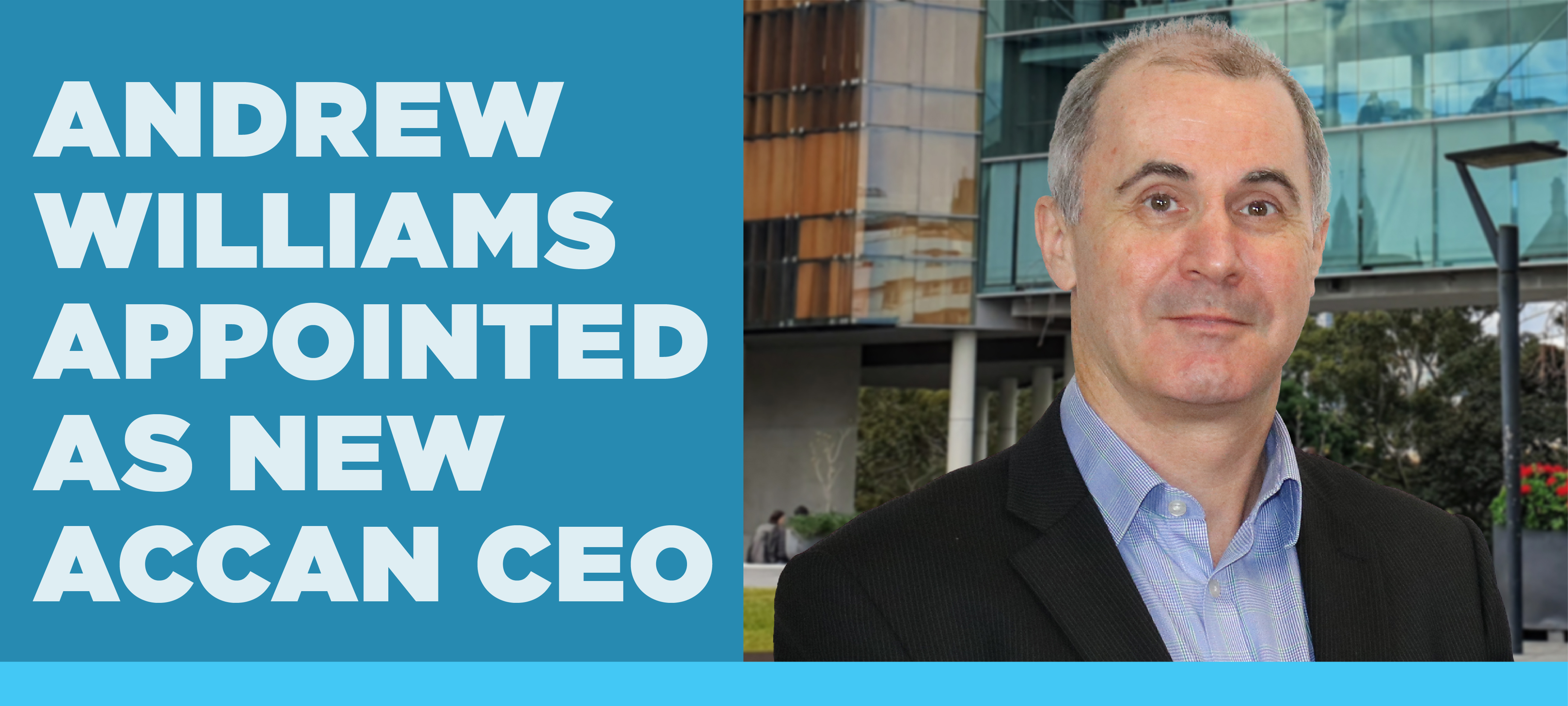 The board of the Australian Communications Consumer Action Network (ACCAN) has announced that Andrew Williams has been appointed as Chief Executive Officer for the organisation. "Following an executive search process, the board has determined that Acting CEO Andrew Williams is the best person to lead ACCAN forward as CEO," said ACCAN Chair Deirdre O'Donnell. Mr Williams took on the role of Acting CEO in October 2021 and has successfully led the ACCAN team over the past five months [ACCAN].


The Australian Communications Consumer Action Network (ACCAN) has welcomed measures to improve connectivity for people living in regional Australia in the 2022-23 Federal Budget, however stressed the need for urgent government action on broadband affordability. The Coalition Government has announced $811.8 million in funding for the Connecting Regional Australia Initiative to expand mobile coverage and improve connectivity, resilience and affordability in regional, rural and peri-urban Australia [ACCAN].

Are you a small business owner with website-building experience? You are invited to take part in ACCAN's Small Business' Experience of Cybersecurity survey, which investigates cybersecurity practices of small businesses. All survey respondents will go in the draw to win a VISA gift card. This survey will help us to determine preferred methods of content delivery for an upcoming consumer education initiative targeting Australian small businesses. This project is funded by auDA Foundation, the administrator of Australia's top-level domain [ACCAN].

Telstra CEO Andrew Penn will retire as the boss of Australia's biggest telecommunications company after serving more than seven years in the role. In a notice to shareholders this morning, Telstra said current Chief Financial Officer (CFO) Vicki Brady will step into the top job officially from September this year [9News].

Some Central Victorians say they've been struggling to connect to the internet for years. A Riddells Creek resident with trouble connecting says half of her street connected to FTTN doesn't have issues. A Bendigo resident has complained they weren't given the choice to connect to the NBN [ABC].

The final round of significant critical infrastructure reforms is set to be passed into law after the powerful national security committee gave it the green light subject to minor amendments. The Parliamentary Joint Committee on Intelligence and Security (PJCIS) tabled its advisory report on the Security Legislation Amendment (Critical Infrastructure Protection) Bill 2022 on Friday, recommending the bill be passed with a handful of changes and strengthened consultation after its passage [InnovationAus].

The minority report of a Senate committee looking at government's controversial "anti-trolling" bill says it needs "substantial amendments" and that there is not enough time to get this done before the election. Labor Senator Kim Carr said the bill is an "ill-considered response to the problem of online trolling" and is "poorly conceived." [InnovationAus]

Competition lawyer Gina Cass-Gottlieb has commenced her term as Chair of the ACCC. Cass-Gottlieb has more than 25 years' experience across complex competition matters. She has also been a Member of the Reserve Bank of Australia Payment Systems Board that is the regulator of access to payment systems, and the Financial Regulator Assessment Authority, the ACCC advised [iTWire].
The code of conduct adopted by digital platforms, including Facebook and Google, is "too narrow" to prevent all the harms of misinformation and disinformation, Australia's media regulator has warned. The requirement that harm from social media posts must be both "serious" and "imminent" before tech companies take action has allowed longer term "chronic harms" including vaccine misinformation and the erosion of democracy, according to the Australian Communication and Media Authority [The Guardian].

Aussie Broadband has announced that it will participate in NBN's new Fibre Connect program, which offers upgrades from fibre-to-the-node (FTTN) or fibre-to-the-curb (FTTC) technologies to full fibre for eligible customers. Aussie Broadband said the initial tranche will focus on FTTN customers, with FTTC premises being introduced into the program in May [iTWire].

WebNews #556

Unsubscribe
from this mailing
click here

Tel: (02) 9288 4000
Email: media@accan.org.au
Web: accan.org.au
Twitter: @accan_au
Facebook.com/accanau
LinkedIn: accan.org.au/LinkedIn
Although we take care to direct subscribers to sites with accurate and reliable content, we advise that ACCAN is not responsible for the content within external sites and has no control over the views, services or information contained therein. Information contained on external sites may not necessarily reflect ACCAN's policy, standards or beliefs.

The Australian Communications Consumer Action Network's representation of residential and other consumers' interests in relation to telecommunications issues is made possible by funding provided by the Commonwealth of Australia under section 593 of the Telecommunications Act 1997. This funding is recovered from charges on telecommunications carriers.

Copyright 2022 ACCAN.
{domain.address}
---