Join ACCAN as a Policy Officer, Independent Grants Panel EOIs close soon, plus more

This week
IN THE NEWS: Join ACCAN as a Policy Officer, Independent Grants Panel EOIs close soon, plus more.

This is a great opportunity for a Policy Officer to join ACCAN's small, but highly effective, team. Reporting to our highly experienced and widely respected Director of Policy, you will hit the ground running and take carriage of a wide range of communications consumer policy initiatives. [ACCAN]

ACCAN is calling for expressions of interest for two additional members to serve on its Independent Grants Panel. This role involves assessing grant applications for funding under the ACCAN Grants Program. [ACCAN]
NBN Co is set to be fined $13.50 per business day - capped at $270 - for late or delayed connections to its network, and up to $30 a day - capped at $1150 - for slow fault fixes, under sweeping new service standards proposed by the ACCC. [itnews]
Optus continues the national rollout of its 5G network and has boosted its 5G plans on offer, announcing the availability of Samsung Galaxy S10 and Oppo Reno 5G handsets, as it prepares to reveal further plans for the rollout in coming weeks. [iTWire]
After 66 years, Telstra has ended a service that allowed Australians to call up and hear the time. The service was set to transmit its last time call on June 30, but was finally switched off after a three-month extension.[news.com.au]
A new "unfixable" iPhone exploit capable of giving hackers deep access to hundreds of millions of iOS devices has been discovered by a security researcher. [nine.com.au]
Aussie Broadband has called for the company responsible for the National Broadband Network (NBN) to pay retailers a rebate on localised fibre-to-the-node (FttN) congestion, following the Australian Competition and Consumer Commission (ACCC) on Tuesday flagging a similar AU$20 charge for congested fixed wireless nodes. [ZDNet]
Google on Wednesday announced a new tool to help users with cognitive disabilities take advantage of Google Assistant on Android devices. Called Action Blocks, the new tool lets you create shortcuts for anything the AI-powered assistant can already do on your device. With Action Blocks, users can accomplish tasks - such as calling a family member - with just one tap. [ZDNet]
A China-based website that allowed for manual installation of Google's Android apps on Huawei's newly launched Mate 30 devices went offline on Wednesday after a security researcher highlighted the "backdoor" to sidestep a U.S. ban. [ARN]
The Australian Energy Regulator (AER) is conducting a review into the Values of Customer Reliability (VCR). The VCR is an estimate of the dollar value customers place on the reliable supply of electricity, usually expressed in dollars per kilowatt hour ($/kWh). The results of the VCR review will be used by the AER to help ensure electricity providers invest the right amount in electricity infrastructure, balancing reliability and affordability to deliver power to customers. [AER]
WebNews #497

Unsubscribe
from this mailing
click here

Tel: (02) 9288 4000
Email: media@accan.org.au
Web: accan.org.au
Twitter: @accan_au
Facebook.com/accanau
LinkedIn: accan.org.au/LinkedIn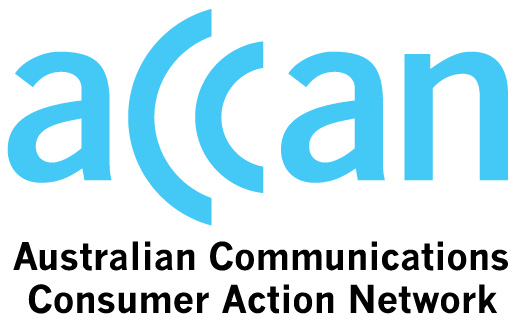 Although we take care to direct subscribers to sites with accurate and reliable content, we advise that ACCAN is not responsible for the content within external sites and has no control over the views, services or information contained therein. Information contained on external sites may not necessarily reflect ACCAN's policy, standards or beliefs.

The Australian Communications Consumer Action Network's representation of residential and other consumers' interests in relation to telecommunications issues is made possible by funding provided by the Commonwealth of Australia under section 593 of the Telecommunications Act 1997. This funding is recovered from charges on telecommunications carriers.

Copyright 2019 ACCAN.
{domain.address}
---