ACCANect 2019 starts tomorrow, Expressions of Interest open for ACCAN Independent Grants Panel, and more

This week
IN THE NEWS: ACCANect 2019 starts tomorrow, Expressions of Interest open for ACCAN Independent Grants Panel, and more.

We look forward to seeing our members and delegates at the ACCANect 2019 conference tomorrow and Thursday. View the latest program and learn more at http://accan.org.au/accanevents [ACCAN]

ACCAN is calling for expressions of interest for two additional members to serve on its Independent Grants Panel. This role involves assessing grant applications for funding under the ACCAN Grants Program. [ACCAN]

The landline telephone is an icon of communication – one that's been connecting people across Australia and the world for more than a century – but its era is coming to an end. ACCAN spoke to The New Daily about why the landline will continue to play an important role for some consumers for the foreseeable future [The New Daily]

SME telecommunications provider BVivid has paid $25,200 in penalties following two infringement notices from the Australian Competition and Consumer Commission (ACCC). The provider will offer to release all affected customers from their contracts without charge. [ARN]

Adam Turner says mobile network outages may no longer affect the nation's EFTPOS terminals, leaving shoppers stranded, as Australia's telcos talk up their long-term 5G plans beyond the need for speed. [Sydney Morning Herald]

Australia's first live 5G broadcast was demonstrated at the Telstra Vantage event in Melbourne. Telstra demonstrated an 8K 360-degree live video broadcast from Kurrawa beach, Queensland. [iTWire]

Australia's major telecommunications companies have been ordered to block eight websites that are hosting videos of the Christchurch terrorist attacks or the alleged gunman's manifesto in the first move from the eSafety Commissioner to use new rules. [Sydney Morning Herald]

Optus has launched a 28-day SIM for overseas visitors that offers unlimited calls and text within Australia, as well as unlimited calls and text to 15 international destinations, and 60GB of data. [ChannelNews]

Broadband speeds will be doubled in every state school in Victoria at a cost of almost $60 million, the Andrews government has promised, as part of a long list of initiatives to raise academic standards in regional and rural schools. [The Age]

The National Australia Bank (NAB) has partnered with La Trobe University on an initiative aimed at lifting the nation's cybersecurity capability. [ZDNet]

WebNews #496

Unsubscribe
from this mailing
click here

Tel: (02) 9288 4000
Email: media@accan.org.au
Web: accan.org.au
Twitter: @accan_au
Facebook.com/accanau
LinkedIn: accan.org.au/LinkedIn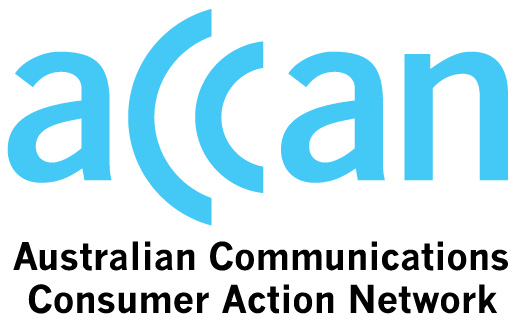 Although we take care to direct subscribers to sites with accurate and reliable content, we advise that ACCAN is not responsible for the content within external sites and has no control over the views, services or information contained therein. Information contained on external sites may not necessarily reflect ACCAN's policy, standards or beliefs.

The Australian Communications Consumer Action Network's representation of residential and other consumers' interests in relation to telecommunications issues is made possible by funding provided by the Commonwealth of Australia under section 593 of the Telecommunications Act 1997. This funding is recovered from charges on telecommunications carriers.

Copyright 2019 ACCAN.
{domain.address}
---