ACCANect 2019 Early Bird sale ends Friday, participants wanted for AccessHub focus group, and more

This week
IN THE NEWS: ACCANect 2019 Early Bird sale ends Friday, participants wanted for AccessHub focus group, and more.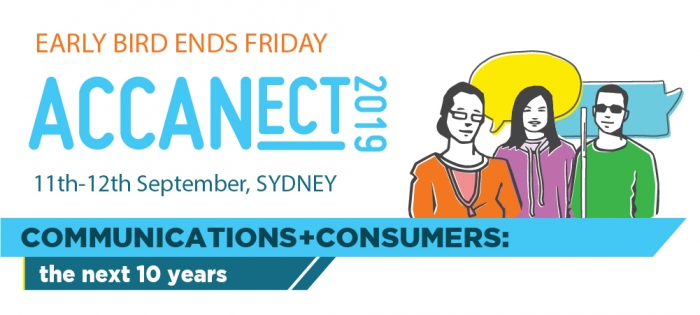 There are only four weeks to go until ACCANect 2019 brings together Australia's telco industry, regulators and researchers under one roof. Haven't secured your ticket yet – there's still time! Register now at http://accan.org.au/accanevents. [ACCAN]

Are you Deaf or Deafblind? Or do you have a hearing or speech impairment? ACCAN needs your help to understand how you use the new Accesshub website. Participants will receive a $100 gift card to thank them for participating in the project. Find out more and register your interest today. [ACCAN]

James Cook University report finds farming families and communities in Queensland's remote north are being left behind by the digital economy, putting them at significant social and economic disadvantage. [The Conversation]

More and smaller telcos are accessing NBN Co's wholesale services, reducing Telstra's market share, a report from the ACCC reveals. [CRN]
Businesses are demanding improvements to phone and internet systems in Australia's north after a 20-hour outage shut down retail systems, delayed flights, and slowed police responses to home burglaries. [ABC News]

As Australian law enforcement and security agencies pressure telcos into helping them intercept encrypted communications, industry players are concerned regarding the breadth of the Assistance and Access Bill's far-reaching powers. [The Australian]

Cyber security experts say policy reforms are needed to stem the rising tide of scammers fleecing consumers and businesses, amid projections Australians will lose more than half-a-billion dollars to fraudsters in 2019. [SmartCompany]

Instagram is adding an option for users to report posts they think are false, the company announced on Thursday, as the Facebook-owned photo-sharing site tries to stem misinformation and other abuses on its platform. [Computerworld]

The government is seeking feedback on its plans to improve regional digital connectivity to fill the gaps left by the rollout of the National Broadband Network. [Information Age]

Optus has switched on a new tower in the Townsville suburb of Black River in North Queensland, the 50th tower to go live in the region as part of the black spot alleviation program. [iTWire]

WebNews #493

Unsubscribe
from this mailing
click here

Tel: (02) 9288 4000
Email: media@accan.org.au
Web: accan.org.au
Twitter: @accan_au
Facebook.com/accanau
LinkedIn: accan.org.au/LinkedIn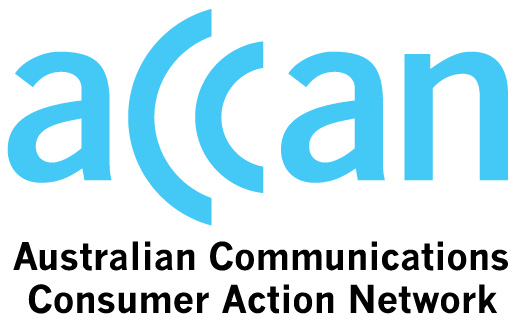 Although we take care to direct subscribers to sites with accurate and reliable content, we advise that ACCAN is not responsible for the content within external sites and has no control over the views, services or information contained therein. Information contained on external sites may not necessarily reflect ACCAN's policy, standards or beliefs.

The Australian Communications Consumer Action Network's representation of residential and other consumers' interests in relation to telecommunications issues is made possible by funding provided by the Commonwealth of Australia under section 593 of the Telecommunications Act 1997. This funding is recovered from charges on telecommunications carriers.

Copyright 2019 ACCAN.
{domain.address}
---