Digital technology has transformed consumer experiences around the world. Consumers can buy products, access information, and communicate with people anywhere in the world with just the touch of a button. We are told that soon everything will be connected so the theme of this year's ACCANect is 'Your place in the connected world'.
This "always on", always connected world raises some big questions for consumers. Is our personal information safe online? Do we know what data is being collected about us and are we happy with how it is being used or shared? How do new services make decisions about us and are they fair? How can we make sure everyone can access an open internet, as well as benefit from the convenience, choice and lower prices?
ACCANect was an opportunity for consumers, providers and government representatives to get up to speed on what's available now, what's over the horizon and what the benefits and challenges are going forward.
As well as debate and discussion, ACCANect will provided practical tools for those attending to navigate the connected world. We looked at the latest research as well as successful initiatives both here and overseas to promote and improve connectivity.
Transcripts and presentations will be put into the sessions below when available.

Download:

ACCANect Program55.75 KB
Download:

ACCANect Program5.23 MB
All videos and presentations have been uploaded in the form provided to ACCAN. Where a video is not captioned unedited transcripts as captured on the day are provided. ACCAN endeavours to supply all materials in an accessible format and will update this page with more accessible versions as they become available.
Background
The digital world can be very complex and challenging for consumers to navigate. ACCAN's goal is available, affordable and accessible communications services for all Australians. As part of the National Year of Digital Inclusion, the ACCANect Conference focused on how to empower consumers to get and stay connected to the phone and broadband services they need.
ACCANect provided opportunities for consumers, providers and government representatives to get up to speed on what's available now and what's over the horizon.
Our 2016 Conference is all about equipping consumers with the tools they need to get and stay connected to communications services. We have identified three key areas where consumers need better tools. Please share your responses with us on any of the questions below:
What legal protections do consumers need to help them get/stay connected?
What information needs to be more widely accessible to consumers?
How could products be better designed to suit consumer needs?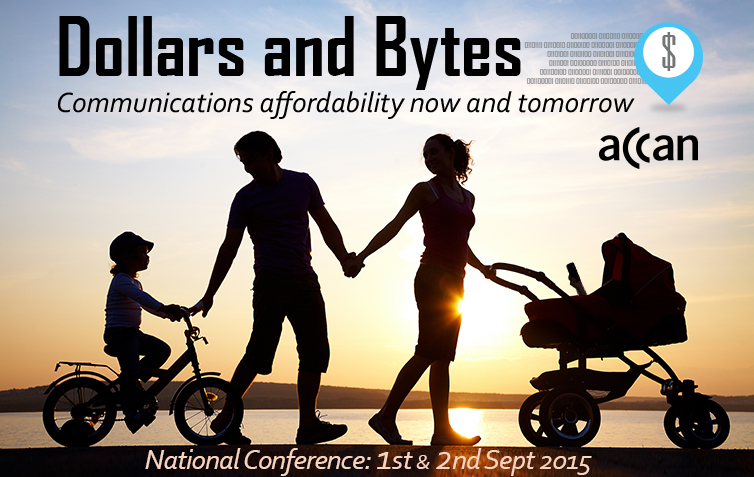 The ACCAN National Conference, Dollars and Bytes - Communications affordability now and tomorrow, was held from 1-2 September, 2015, at the Aerial UTS Function Centre in Sydney.
Affordability is one of our core objectives and was the focus of the Conference. Affordability of communications products is an issue that affects all consumers, from young people, to families and seniors.
Presentations and transcripts are now available and are linked below.
---