IN THE NEWS: Regional "Connectivity Month" initiative launched, domain security tip sheets now available online and more.

This week
IN THE NEWS: Regional "Connectivity Month" initiative launched, domain security tip sheets now available online and more.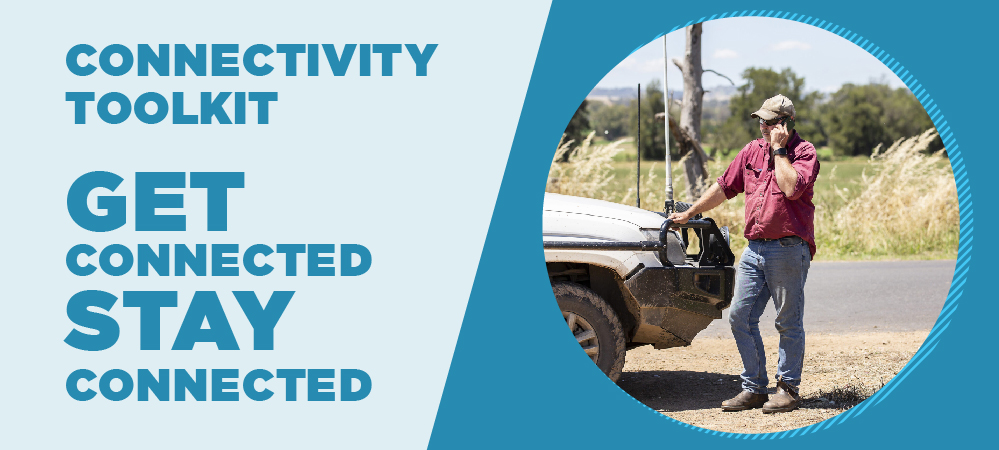 On Tuesday the Regional Tech Hub, alongside the Minister for Communications, the Hon. Michelle Rowland MP and the National Farmers' Federation, launched Connectivity Month - a campaign designed to jumpstart awareness of the options available to help people get connected and stay connected to mobile and internet services. [Regional Tech Hub]


Navigating domain registration processes can be tricky. Small business owners and employees need to be equipped with the right knowledge and resources to stay up to speed with emerging cybersecurity trends. Our simple guides aim to help small business owners protect their business, personal information, and private information like credit card details that are shared with them by customers. For ACCAN's 'Your Small Business Guide' tip sheets, visit our Talking Telco page. [ACCAN]

Businesses throughout regional and remote Australia often face numerous challenges. Whether it be related to their relative isolation, or simply finding ways of promoting themselves – finding a path to success can be hard. [nbn]

Telecommunications services, like mobile phones, landlines and internet, help us to communicate and receive information during emergencies or natural disasters. They are crucial in coordinating response and recovery efforts--but what would you do if they weren't available? While telecommunications providers actively plan for emergencies and natural disasters, these services may become unavailable for a number of reasons, such as direct damage or power supply being interrupted. [Department of Communications]

ACCAN's Grants Round for 2023 is scheduled to open in January, with funded projects to begin from July. ACCAN encourages anyone interested in applying to discuss their project ideas with the Grants Team. For more information about our grants scheme, or how grants applications are assessed, visit our website. [ACCAN]

The NSW government has funded grants totalling $500,000 to pilot two solutions for improving regional and remote connectivity and emergency services' communications. A wi-fi network rapidly deployable across large remote areas, and a platform for sharing data between government agencies, will be trialled over six months, NSW minister for customer service and digital government Victor Dominello said in a statement. [IT News]

Two years later than it first hoped, Telstra is now hailing the arrival of consumer devices that can use the 5G network slicing technology it deployed in 2020. When it first announced Telstra 5G Standalone, the carrier anticipated devices would "become available from late 2020". [IT News]

Telco Singtel Optus has agreed to reimburse the costs of a new driving licence for NSW residents who were hit by the telco's catastrophic data breach. In other mainland states, the respective departments of transport are still battling to try and get the telco to accept responsibility for the leaking of drivers' licence data and pay up. [iTWire]


Be the first to benefit from this free program and help build a workforce of wardens to protect Australian small businesses both now and into the future. Telling us a bit about your business will help us match the program to your needs. It is a simple education tool designed to build a cyber-smart small business workforce. Educating your team about cyber threats will help to protect your small business. [COSBOA]

In support of national Scams Awareness Week (7–11 November) and its aim to help Australians spot scams, the Australian Communications and Media Authority (ACMA) has today revealed the top five phone scams currently being reported to the agency. The scam most reported to the ACMA in the last three months has been an Amazon impersonation scam, which sees scammers call to collect people's personal details under the guise of an issue with their Amazon account. Similar scam calls purporting to be from banks, NBN Co, Telstra and eBay make up the rest of the top five. [ACMA]
WebNews #587

Unsubscribe
from this mailing
click here

Tel: (02) 9288 4000
Email: media@accan.org.au
Web: accan.org.au
Twitter: @accan_au
Facebook.com/accanau
LinkedIn: accan.org.au/LinkedIn
Although we take care to direct subscribers to sites with accurate and reliable content, we advise that ACCAN is not responsible for the content within external sites and has no control over the views, services or information contained therein. Information contained on external sites may not necessarily reflect ACCAN's policy, standards or beliefs.

The Australian Communications Consumer Action Network's representation of residential and other consumers' interests in relation to telecommunications issues is made possible by funding provided by the Commonwealth of Australia under section 593 of the Telecommunications Act 1997. This funding is recovered from charges on telecommunications carriers.

Copyright 2022 ACCAN.
{domain.address}
---