IN THE NEWS: ACCAN Policy Priorities 2022-23, National Data Security Action Plan Submission, and more.

This week
IN THE NEWS: ACCAN Policy Priorities 2022-23, National Data Security Action Plan Submission, and more.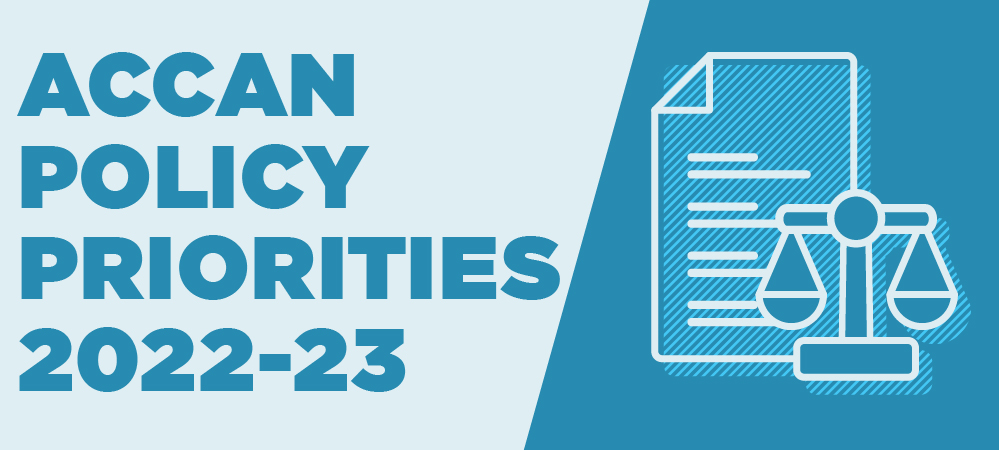 ACCAN's purpose, as outlined in our Strategic Plan, is to work for "communications services that are trusted, inclusive, accessible and available for all." In 2022-23, ACCAN will focus on priority areas informed by the ongoing impact of COVID-19 and natural disasters on consumers' use of communications services and the need for accessible and easy-to-understand consumer education and information about communications issues. [ACCAN]


The Australian Communications Consumer Action Network (ACCAN) recently submitted to the Department of Home Affairs' National Security Action Plan Discussion Paper. As the leading voice for communications consumers in Australia, ACCAN continues to monitor a range of data rights and privacy issues. ACCAN responded to questions 14 and 15 in the discussion paper which inquired about how to foster consumer trust in data security. [ACCAN]

Communications Alliance, the peak body for the telco industry, has sought feedback on a new draft Number Management – Use of Numbers by Customers Code. ACCAN is broadly supportive of the draft Code. We support the changes to number quarantining arrangements made in the draft Code, and support the inclusion of obligations that may help to alleviate some of the consumer detriment experienced when numbers are wrongfully disconnected or quarantined. [ACCAN]

In her first interview since she was sworn in as Minister for Communications after the Labor Party's election victory, Ms Rowland told The Australian Financial Review the government "needs to be interventionist" to get results when dealing with big tech. [AFR]

According to a new report by Swedish telecoms company Ericsson, 5G subscriptions are expected to exceed 1 billion by the end of 2022. The company released their 2022 Ericsson Mobility report, with the key finding stating that over 1 billion devices will be subscribed to 5G by the end of the year. By 2027, the report says that 5G will account for 60% of all global mobile network traffic, and subscriptions will reach 4.4 billion. [Channel News]

Latest figures reveal Australia has the highest percentage of mobile app threats detected and Australians are the most exposed to mobile threats on a per-device basis, according to the Look App Threats Map, a threat intelligence index by endpoint-to-cloud security Lookout. [iTWire]

Australia's consumer regulator will target online marketplaces and sellers trying to manipulate customers using "dark patterns" over the next 12 months under new chair Gina Cass-Gottlieb, who has called for tougher penalties and more proactive safety mechanisms. [InnovationAus]

Customers of Optus' mobile virtual network operators (MVNO) will have the option to access new mobile services in minutes rather than days. A simple QR code will make it easier for both postpaid and prepaid customers of MVNO partners around Australia to gain access to Optus' 4G and 5G network in a more sustainable and streamlined way. [iTNews]
TPG Telecom has announced its new 10 Gigabit Fast Fibre offering. The insanely fast internet service is available to over 137,000 businesses in metropolitan areas of Sydney, Melbourne, Brisbane, Adelaide, Perth and Canberra, and will cost $2,499 per month. [Channel News]

Many remote and hybrid workers are using their own personal devices when working away from the office – resulting in a far greater vulnerability to cyber attacks and data leaks without the security provided by in-office tech. [Gizmodo]

WebNews #568

Unsubscribe
from this mailing
click here

Tel: (02) 9288 4000
Email: media@accan.org.au
Web: accan.org.au
Twitter: @accan_au
Facebook.com/accanau
LinkedIn: accan.org.au/LinkedIn
Although we take care to direct subscribers to sites with accurate and reliable content, we advise that ACCAN is not responsible for the content within external sites and has no control over the views, services or information contained therein. Information contained on external sites may not necessarily reflect ACCAN's policy, standards or beliefs.

The Australian Communications Consumer Action Network's representation of residential and other consumers' interests in relation to telecommunications issues is made possible by funding provided by the Commonwealth of Australia under section 593 of the Telecommunications Act 1997. This funding is recovered from charges on telecommunications carriers.

Copyright 2022 ACCAN.
{domain.address}
---