ACCAN 2020 Grants round now open, ACMA consults on emergency call services amendments, and more

This week
IN THE NEWS: ACCAN 2020 Grants round now open, ACMA consults on emergency call services amendments, and more.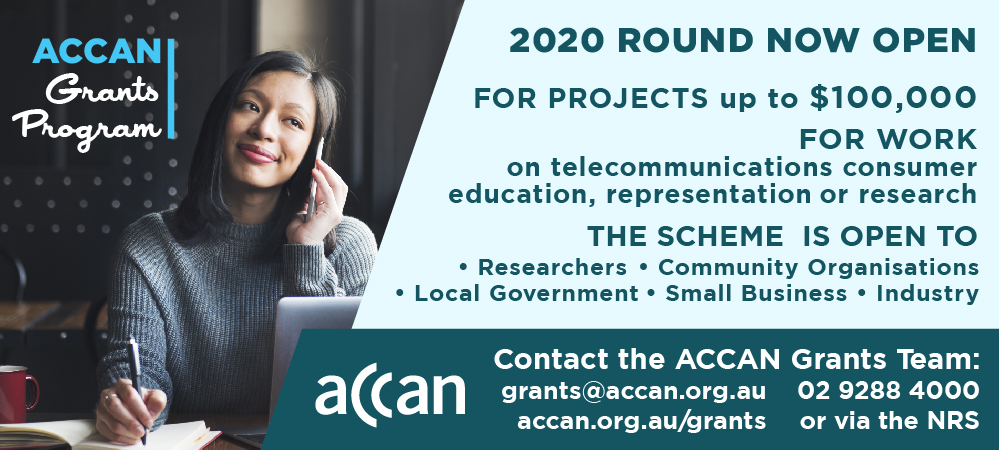 Expressions of Interest for ACCAN's 2020 Grants Round are now open, with up to $100,000 available for successful projects. [ACCAN]

ACCAN has provided a brief submission to the Communications Alliance review of Guideline G660:2018, Assisting Customers Experiencing Domestic and Family Violence. This Guideline offers education to telco providers about the impacts of domestic and family violence and how they can help customers who are experiencing domestic or family violence. [ACCAN]

The Australian Communications and Media Authority (ACMA) is undertaking public consultation on proposed amendments to the Telecommunications (Emergency Call Service) Determination 2019. [iTWire]

Widespread Telstra outages in several Aboriginal communities in a remote area of Central Australia are shutting down stores, putting lives at risk and preventing people from accessing their money, according to community members. [ABC News]

Optus has launched a grants program to help re-establish connectivity within regional Australia, particularly through support for small businesses affected by bushfires. [iTWire]

Vocus wants the government to open its mobile blackspots scheme ahead of an $80 million sixth round in a way that encourages competition on federally co-funded mobile towers. [itnews]

Telcos are working to restore landline and internet connections to bushfire-damaged towns. [WAToday]

The Australian Communications and Media Authority (ACMA) has taken Sydney telco Red Telecom and its sole director to court for allegedly failing to comply with regulatory orders. [CRN]

New Roy Morgan customer satisfaction data shows Aussie Broadband is the latest winner of the Internet Service Provider (ISP) of the Month Award, with a customer satisfaction rating of 92% for November. [Roy Morgan]

Scammy, spammy texts have come to your phone. ZDNet have created a guide to avoiding getting ripped off by scam artists who've added social engineering to their toolbox. [ZDNet]

WebNews #506

Unsubscribe
from this mailing
click here

Tel: (02) 9288 4000
Email: media@accan.org.au
Web: accan.org.au
Twitter: @accan_au
Facebook.com/accanau
LinkedIn: accan.org.au/LinkedIn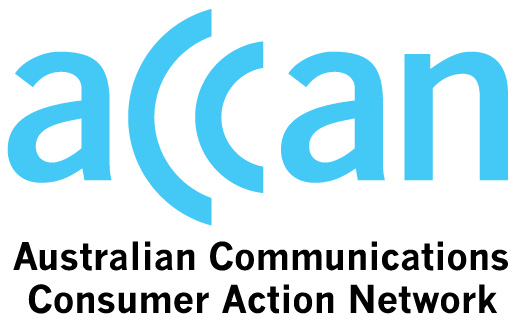 Although we take care to direct subscribers to sites with accurate and reliable content, we advise that ACCAN is not responsible for the content within external sites and has no control over the views, services or information contained therein. Information contained on external sites may not necessarily reflect ACCAN's policy, standards or beliefs.

The Australian Communications Consumer Action Network's representation of residential and other consumers' interests in relation to telecommunications issues is made possible by funding provided by the Commonwealth of Australia under section 593 of the Telecommunications Act 1997. This funding is recovered from charges on telecommunications carriers.

Copyright 2019 ACCAN.
{domain.address}
---