2020 ACCAN Grants round opens next week, ACMA to review bushfire impact on Australian telco networks, and more

This week
IN THE NEWS: 2020 ACCAN Grants round opens next week, ACMA to review bushfire impact on Australian telco networks, and more.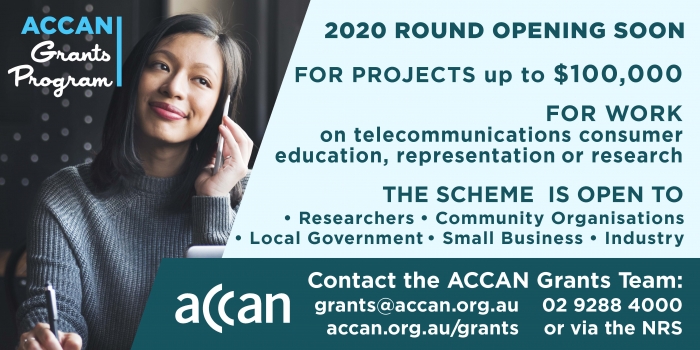 ACCAN Grants round is open for applications from 28 January - 25 February 2020, for projects running July 2020 - May 2022. Up to $100,000 can be requested for research, representation, or education projects that address issues for telecommunications consumers in Australia. [ACCAN]

ACCAN Grant recipients Karen Lee and Derek Wilding from UTS examined how consumers and citizens have been involved in the rule-making aspects of communications industry regulation. [ACCAN]

The Australian Communications and Media Authority (ACMA) is set to conduct an industry-wide review into the impact of Australia's summer of bushfires on the nation's telco networks, and how the industry handled the situation. [ZDNet]

Australians are spending less time talking on their mobile phones and downloading substantially more data than they were even a year ago, the ACCC's Communications Market Report for 2018-19 has found. [Mediaweek]

Australia's brutal summer of bushfires has reignited a discussion over whether telecommunications providers should charge emergency services for the delivery of text message alerts. [Brisbane Times]

National Farmers Federation outline their take on all things agtech, X-tech, telco and blockchain in a submission to the Senate Select Committee on Financial Technology and Regulatory Technology. [itnews]

The ABC has written a guide to giving yourself a 2020 privacy check-up. [ABC News]

Google plans to eliminate third-party cookies by 2022. This will shake up the advertising industry, which uses them to target ads. [ABC News]

Vodafone is hoping to challenge one of the key grounds used by the ACCC to kill off a contentious bid two years ago to force Telstra's regional mobile network to be opened to rivals. [itnews]

Sydney man loses $2,000 in under an hour due to a fraudulent mobile number porting scam. [Finder]

WebNews #505

Unsubscribe
from this mailing
click here

Tel: (02) 9288 4000
Email: media@accan.org.au
Web: accan.org.au
Twitter: @accan_au
Facebook.com/accanau
LinkedIn: accan.org.au/LinkedIn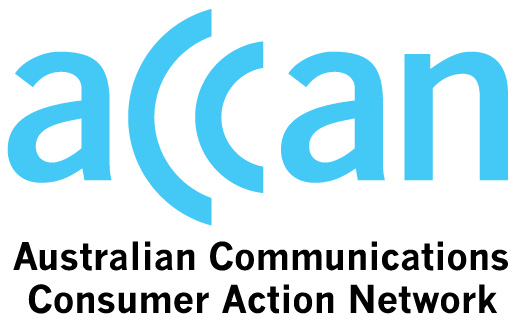 Although we take care to direct subscribers to sites with accurate and reliable content, we advise that ACCAN is not responsible for the content within external sites and has no control over the views, services or information contained therein. Information contained on external sites may not necessarily reflect ACCAN's policy, standards or beliefs.

The Australian Communications Consumer Action Network's representation of residential and other consumers' interests in relation to telecommunications issues is made possible by funding provided by the Commonwealth of Australia under section 593 of the Telecommunications Act 1997. This funding is recovered from charges on telecommunications carriers.

Copyright 2019 ACCAN.
{domain.address}
---