ACCANect 2019 Early Bird rates extended for a limited time, NBN Co warns of scammers, and more

This week
IN THE NEWS: ACCANect 2019 Early Bird rates extended for a limited time, NBN Co warns of scammers, and more.


Early Bird rates have been extended for a limited time. Register for ACCANect 2019 by Friday 23rd August to secure your discounted tickets. [ACCAN]

NBN Co is receiving upwards of 100 calls a day about suspected internet installation scams and has warned consumers and business owners to stay vigilant amid a "significant uplift" in people impersonating broadband providers.[SMH]

Launched in August 2019, Sky Muster Plus is a new type of NBN plan that uses the Sky Muster satellite network.
In many respects, it is identical to the regular Sky Muster NBN plans that have been available to Aussies living in select regional and remote areas of the country since the launch of the National Broadband Network. The main difference is in how your Internet usage is counted against your monthly data cap. [finder.com.au]

A YouGov Galaxy survey commissioned by Vodafone in May found Aussies were spending a whopping $1.4 billion on roaming charges — and the telco says the rip-off continues despite recent announcements by its rivals. [news.com.au]

Proposed changes to the regulation of international mobile roaming (IMR) services will come into effect in the Australian telecoms sector in January next year under draft changes put forward by the telecommunications regulator, the Australian Communications and Media Authority (ACMA). [iTWire]

According to the Australian Competition and Consumer Commission (ACCC), the two retail services providers (RSPs) were the RSPs most affected by the under-performing services during the hours of 7pm to 11pm. [ARN]

The scam works by sending a text message informing the receiver a package belonging to them has been detained at the sorting office and prompting them to click a link, and pay a fee, to retrieve it. [news.com.au]

Australians are expected to suffer record losses to scammers exceeding $532 million by the end of this year, surpassing half a billion dollars for the first time, according to the latest Scamwatch report from the Australian Competition and Consumer Commission (ACCC). [iTWire]

Welfare groups say the internet is an now essential service, because an increasing number of government services are going online. [ABC]

Smartphones using new 5G technology are safe, the US' Federal Communications Commission (FCC) argues in a new proposal released on Thursday by its chairman, Ajit Pai. [ZDNet]

WebNews #492

Unsubscribe
from this mailing
click here

Tel: (02) 9288 4000
Email: media@accan.org.au
Web: accan.org.au
Twitter: @accan_au
Facebook.com/accanau
LinkedIn: accan.org.au/LinkedIn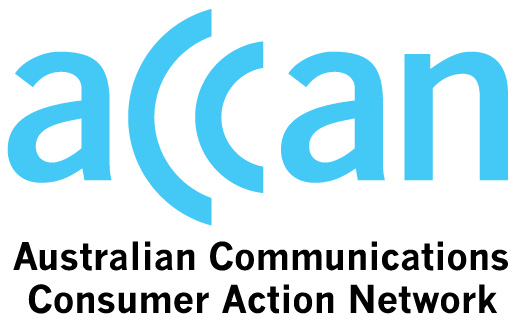 Although we take care to direct subscribers to sites with accurate and reliable content, we advise that ACCAN is not responsible for the content within external sites and has no control over the views, services or information contained therein. Information contained on external sites may not necessarily reflect ACCAN's policy, standards or beliefs.

The Australian Communications Consumer Action Network's representation of residential and other consumers' interests in relation to telecommunications issues is made possible by funding provided by the Commonwealth of Australia under section 593 of the Telecommunications Act 1997. This funding is recovered from charges on telecommunications carriers.

Copyright 2019 ACCAN.
{domain.address}
---