ACCANect 2019 Early Bird pricing ends soon, ACCAN Board nominations close next week, and more

This week
IN THE NEWS: ACCANect 2019 Early Bird pricing ends soon, ACCAN Board nominations close next week, and more.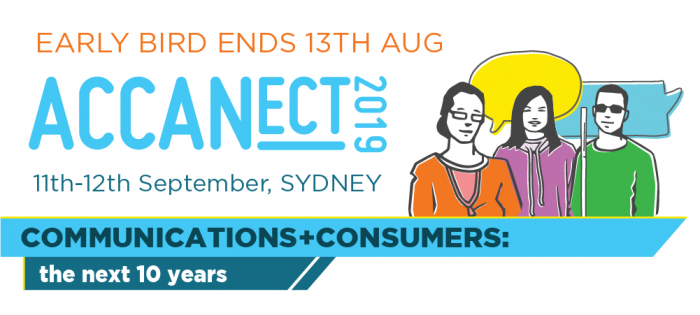 Have you bought your ticket for ACCANect 2019 yet? Early Bird prices end 13th August. Don't miss your opportunity to hear from some of the nation's most influential telco voices. [ACCAN]

Nominations for ACCAN's board close 13th August. The Board is particularly seeking candidates with legal and regulatory expertise or experience; and/or experience in financial management and governance in a not for profit organisation; and/or with lived experience of disability; and/or an understanding of the issues affecting young consumers and/or small businesses.[ACCAN]

ACCAN is proud to be sponsoring Australia's first awards dedicated to the recognition of accessible websites and apps. The Centre for Accessibility believes one of the best ways of promoting accessibility is to reward and recognise those who are doing a great job implementing digital access.

Nomination is free so if you know of a website or app that does a good job in making its content accessible, nominate now - [Centre for Accessibility]
Dozens of confused customers have contacted the telecommunications ombudsman, unclear on why they're receiving demands to hand back their handsets now that their contracts are drawing to a close. [Ten Daily]

Optus has switched on a new tower in Mt McDonald in NSW as part of round 2 the Federal Government's mobile black spot program. [iTWire]

Telstra has warned that public trust in the security of their data will be eroded if government agencies continue to be allowed access to it without appropriate authorisation. [Guardian Australia]

Optus is incurring "millions of dollars" a month in excess charges to serve its 12Mbps NBN user base as a result of NBN Co's price squeeze on the entry-level market. [itnews]

The federal opposition is hopeful that a commitment made by the government to amend legislation will be honoured, following the passage of the Treasury Laws Amendment (Consumer Data Right) Bill. [ZDNet]

Tech commentator Trevor Long puts Telstra's 5G network to the test in real world conditions. [EFTM]

The telco has developed applications that can transcribe voice calls in real-time and translate them from different languages into English. [ZDNet]

WebNews #491

Unsubscribe
from this mailing
click here

Tel: (02) 9288 4000
Email: media@accan.org.au
Web: accan.org.au
Twitter: @accan_au
Facebook.com/accanau
LinkedIn: accan.org.au/LinkedIn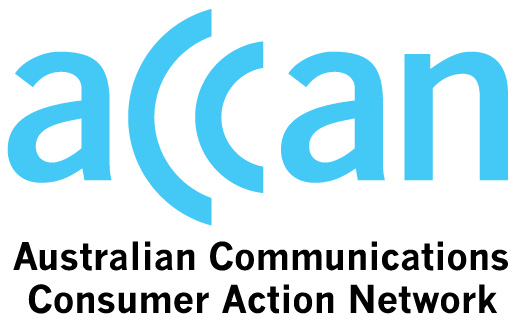 Although we take care to direct subscribers to sites with accurate and reliable content, we advise that ACCAN is not responsible for the content within external sites and has no control over the views, services or information contained therein. Information contained on external sites may not necessarily reflect ACCAN's policy, standards or beliefs.

The Australian Communications Consumer Action Network's representation of residential and other consumers' interests in relation to telecommunications issues is made possible by funding provided by the Commonwealth of Australia under section 593 of the Telecommunications Act 1997. This funding is recovered from charges on telecommunications carriers.

Copyright 2019 ACCAN.
{domain.address}
---