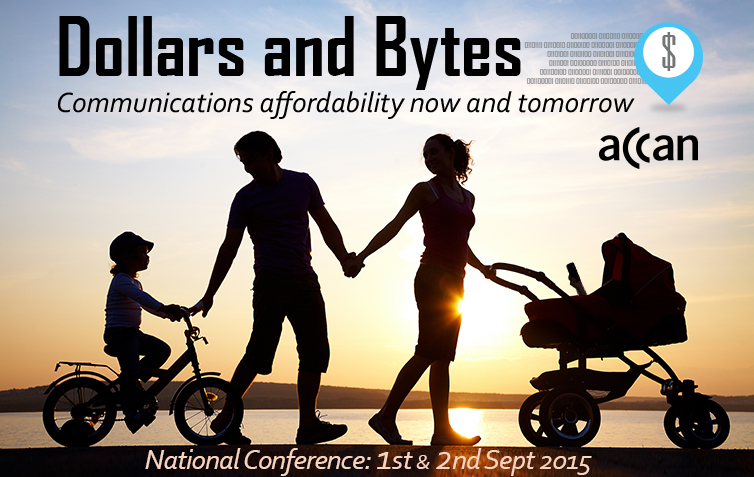 Affordability of communications products is an issue that affects all consumers - from young people to families and seniors. At ACCAN's National Conference there will be lively discussions on a range of topics including the extent of the affordability divide, affordability barriers, and an exploration of international initiatives as well as the role of industry, government and consumers in resolving affordability issues.
Apart from the insights into affordability issues, by attending ACCAN's National Conference you'll get an opportunity to:
Network and meet new people: With over 200 attendees including industry leaders, international delegates, consumer groups, government and regulators as well as mainstream media this will be a perfect opportunity to connect with the thought leaders of this field.
Be inspired: With such a wealth of knowledge and expertise under one roof this is a perfect opportunity to discuss common challenges and find solutions to an issue that is extremely relevant for all consumers – affordability of communications products.
Be heard: You will have the chance to voice your concerns while allowing the decision makers – government, telcos, regulators and content producers – to hear first-hand consumer experiences and discuss the realities consumers face.
Professional Development: You will hear key insights and gain knowledge from industry leaders on relevant, interesting and topical subjects that you can implement in your future business and personal life.
To take advantage of our early bird rates and to register go to: accan.org.au/affordability. Early bird pricing ends on 31 July. For more information, you can also get in touch via email (This email address is being protected from spambots. You need JavaScript enabled to view it.) or by calling 02 9288 4000.
We look forward to seeing you there!
Download:

Why you should attend the 2015 ACCAN National Conference.docx683.55 KB
Download:

Why you should attend the 2015 ACCAN National Conference.pdf296.3 KB