WebNews: ACCAN 2023 Grants Round to open in January, help shape the sound of Vision Australia Radio, and more. 

This week
IN THE NEWS: ACCAN 2023 Grants Round to open in January, help shape the sound of Vision Australia Radio, and more.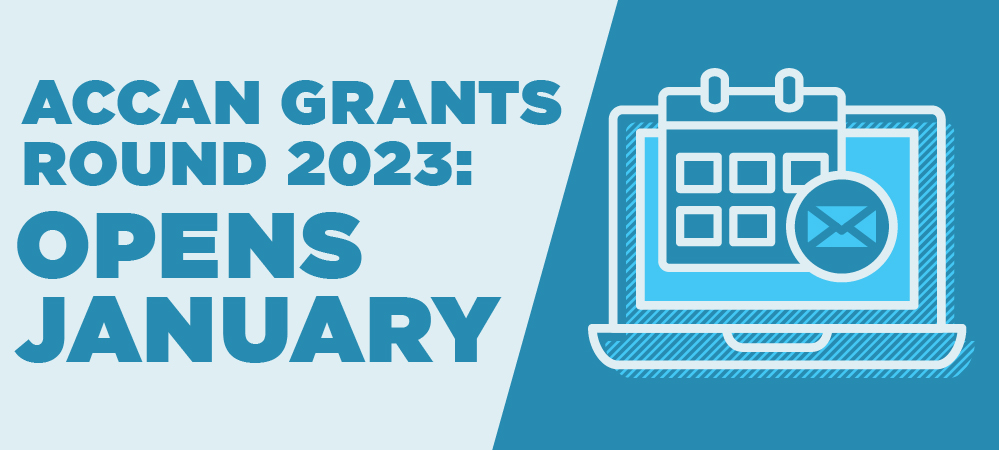 ACCAN's Grants Round for 2023 is scheduled to open in January, with funded projects to begin from July. ACCAN encourages anyone interested in applying to discuss their project ideas with the Grants Team. For more information about our grants scheme, or how grants applications are assessed, visit our website. [ACCAN]


Is there a Vision Australia Radio program or podcast you absolutely love? Or maybe you think something is missing on the airwaves? Have your say now in the network's annual survey. Whether you tune in via traditional radio, online or listen to one of its fabulous podcasts, the radio wants to hear what you have to say. The survey is seeking information not only about the type of shows you enjoy listening to, and your favourite programs, but also what you think the station could improve on. [Vision Australia]

In June, Meta launched the 2022 Meta AR/VR Policy Research request for proposals (RFP) in partnership with the Centre for Civil Society and Governance of the University of Hong Kong. The awards are funded by the Meta XR Programs and Research Fund, a two-year, $50 million investment in programs and external research to help in the effort of building the metaverse responsibly. ACCAN's Director of Inclusion, Dr Wayne Hawkins, has been named as part of a team-awarded a grant under the 'Disability in the Metaverse' category, alongside researchers from the University of Sydney, the Queensland University of Technology, and others. [Meta]

Get Online Week 2022 will take place from the 17th to the 23rd of October. 1 in 4 Australians are digitally excluded (ADII, 2021). Less than 40% of Aussies are confident that they can keep up with the rapid pace of tech changes (ADII, 2020). For people more at risk of digital exclusion, such as older people, people with disability, low income families and First Nations people, this rate is even higher. Between 17-23 October, organisations all over the country are running online (or COVID-safe face-to-face events) for Get Online Week. If you need support to find your closest in-person or online event, call Good Things Foundation on 1300 795 897. [Good Things Foundation]

Mullen urged companies to avoid complacency when it comes to protecting customer data in wide-ranging comments that included his plans to retire from the chairmanship within two years. His retirement is contingent on helping new chief executive Vicki Brady settle in her new role and strengthening Telstra's board of directors. [SMH]


October is Cyber Security Awareness Month and an annual reminder for all Australians to stay secure online. The overarching theme for 2022 is 'Have you been hacked?'
Cyber security is important for everyone. The first steps are turning on automatic software updates, regularly backing up your devices, switching on multi-factor authentication, using passphrases, securing mobile devices, and watching out for cyber scams. [Australian Cyber Security Centre]

Anti-Poverty Week will celebrate its 20th anniversary and be held from the 16th to the 22nd of October 2022. In 2021, Anti-Poverty Week called on governments to take action on 2 key things to unlock poverty for individuals, families, and children: raise income support above the poverty line and invest in social housing. This year, Anti-Poverty Week are calling on Parliamentarians to commit to halving child poverty by 2030. [Anti-Poverty Week]

A Federal Government review may lead to tightened anti-siphoning rules that make streaming services subject to the same rules as Foxtel. The stated purpose of the anti-siphoning rules is "to give free-to-air broadcasters an initial opportunity to buy the television rights to major events included on the anti-siphoning list." While the scheme only refers to "events", the list only includes sporting events. [iTWire]
The government has announced it's reappointed Nerida O'Loughlin as the Australian Communications and Media Authority (ACMA) chair, for two more years. The reappointment takes effect 14 October and was announced by Communications Minister Michelle Rowland. [iTNews]

The Telecommunications Industry Ombudsman (TIO) has undergone an independent review – as required by legislation. The review includes the views of the TIO's many and diverse stakeholders, and reflects the environment of dynamic change occurring in the policy, technology and social environment of the telecommunications industry. The TIO has already commenced implementation of some of the recommendations and will continue to incorporate the review's findings and recommendations in its priorities for the next financial year and beyond. [TIO]

WebNews #583

Unsubscribe
from this mailing
click here

Tel: (02) 9288 4000
Email: media@accan.org.au
Web: accan.org.au
Twitter: @accan_au
Facebook.com/accanau
LinkedIn: accan.org.au/LinkedIn
Although we take care to direct subscribers to sites with accurate and reliable content, we advise that ACCAN is not responsible for the content within external sites and has no control over the views, services or information contained therein. Information contained on external sites may not necessarily reflect ACCAN's policy, standards or beliefs.

The Australian Communications Consumer Action Network's representation of residential and other consumers' interests in relation to telecommunications issues is made possible by funding provided by the Commonwealth of Australia under section 593 of the Telecommunications Act 1997. This funding is recovered from charges on telecommunications carriers.

Copyright 2022 ACCAN.
{domain.address}
---