IN THE NEWS: Telco complaints decrease on average but mobile coverage still a concern, ACCANect 2022 Feedback Survey, and more.

This week
IN THE NEWS: Telco complaints decrease on average but mobile coverage still a concern, ACCANect 2022 Feedback Survey, and more.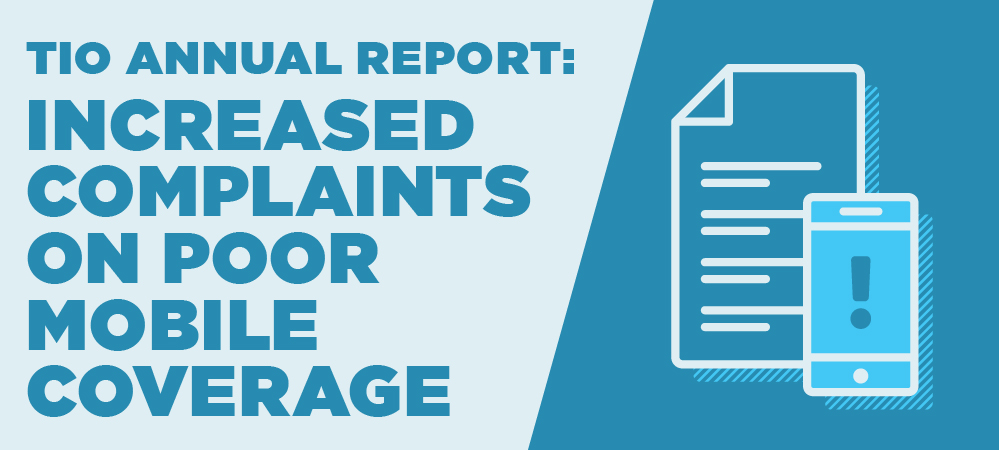 The Australian Communications Consumer Action Network (ACCAN) has welcomed an overall fall in complaints to the Telecommunications Industry Ombudsman (TIO). However, considerable increases to complaints about poor mobile coverage and mobile service dropouts (up 9.9% and 6.3% respectively) have concerned the peak body for communications consumers. Complaints data published today in the TIO's 2021-22 Annual Report shows that there were 79,534 complaints received in the last financial year; a decrease of 33.4% compared to the 2020-21 report. [ACCAN]


Thanks again to all of our #ACCANect2022 conference attendees – it was a great day for all involved. If you would like to take the time to share any thought you had around any of the sessions on the day, you can do so via our post-conference feedback survey. A reminder that all registered attendees can also access each of the sessions on-demand via the conference website. [ACCAN]

Former CSIRO chair David Thodey will lead an "expansive" audit of the federal government's myGov digital platform that was an election pledge of the new Labor government. Thodey will lead a five-person audit panel that also includes former human rights commissioner Edward Santow, eSafety commissioner Julie Inman Grant, Uber's former head of global economic policy Amit Singh (now managing director, Accenture Australia), and social epidemiologist Professor Emily Banks. [iTNews]

Telstra and its brands are already working on the "technical build" that will enable their participation and compliance with the consumer data right (CDR). News of the work coincided with the government's release of draft rules for the telecommunications sector's inclusion in the scheme on Friday. [iTNews]
While the humble SMS has been around for 30 years, and many of us still send or receive text messages every day, Google claims that "texting is broken". The company has launched a publicity campaign against Apple, calling on its fellow tech giant to "fix texting" by ditching SMS altogether. Google says its push is the result of users getting a bad texting experience when sending messages between Apple and non-Apple devices. [ABC]

South Korea levied tens of millions of dollars in fines on Alphabet's Google and Meta Platforms for privacy law violations, authorities said on Wednesday. The privacy panel said the firms did not clearly inform service users and obtain their prior consent when collecting and analysing behavioural information, to infer their interests or use them for customised advertisements. [iTNews]

Telstra will switch off its 3G network in 2024. A regional telecommunications review commissioned by Regional Development Australia Murraylands and Riverland (RDAMR) found nine locations across the region still relied on 3G coverage, and a number of areas in regional SA will be under served. Telstra says it's upgrading its network before the switch happens. [ABC]

Amaysim has announced that it will be launching 5G services, making it one of the first Mobile Virtual Network Operators (MVNO) to do so. The new 5G plan, which launches in November, will run off the Optus Network. The new plan will launch in November and will be available for anyone with a 5G compatible device. [Channel News]
Australia's e-commerce industry is standing at the precipice of a monumental shift, as new data predicts Amazon is on track to dethrone eBay as the country's top online shopping website. The American e-commerce giant, which launched in Australia just seven years ago, has been rapidly outmuscling competitors with faster delivery times and local growth in its loyalty scheme, Amazon Prime. [The New Daily]

WebNews #581

Unsubscribe
from this mailing
click here

Tel: (02) 9288 4000
Email: media@accan.org.au
Web: accan.org.au
Twitter: @accan_au
Facebook.com/accanau
LinkedIn: accan.org.au/LinkedIn
Although we take care to direct subscribers to sites with accurate and reliable content, we advise that ACCAN is not responsible for the content within external sites and has no control over the views, services or information contained therein. Information contained on external sites may not necessarily reflect ACCAN's policy, standards or beliefs.

The Australian Communications Consumer Action Network's representation of residential and other consumers' interests in relation to telecommunications issues is made possible by funding provided by the Commonwealth of Australia under section 593 of the Telecommunications Act 1997. This funding is recovered from charges on telecommunications carriers.

Copyright 2022 ACCAN.
{domain.address}
---