IN THE NEWS: ACCAN Policy Officer Position Available, Scam Week 2021, and more.

This week
IN THE NEWS: ACCAN Policy Officer Position Available, Protecting Yourself from Gift Card Scams, and more

The Australian Communications Consumer Action Network, ACCAN, is Australia's peak body representing the interests of all consumers in communications issues. ACCAN is an important and independent consumer voice promoting the accessibility, quality of service, affordability and availability of communications services for all Australian consumers. This is a great opportunity for a Policy Officer to join our small, but highly effective, team. Reporting to our Director of Inclusion, you will hit the ground running and take carriage of a wide range of communications consumer policy initiatives [ACCAN].


Many companies offer gift cards as a convenient way for customers to purchase apps, books, movies, and video games from app stores like the Google Play store or Apple's App Store. But as convenient as gift cards are for consumers, they are just as attractive to scammers who present them as legitimate payment methods in sophisticated scam scenarios. Don't be misled by these scams. Gift cards can only be used at the company they were issued for, not as payments for other goods, services, bills, or fines [ACCAN].

Working from home has become an environment that many of us have become familiar with recently. However, home offices often aren't set up as effectively as usual places of work. This means you may not be able to guarantee access to the internet all the time, or that you may not have the speeds you need to work efficiently. We've put together a guide which includes steps you can take to ensure that you have the best possible working from home set up [ACCAN].

The rapid evolution of technology has meant that mobile phones aren't just phones anymore. The addition of features like cameras, digital wallets and high-resolution screen displays means that we can use our devices for so much more than just calling and texting. It's always exciting when we get to see what new features are being incorporated into the latest mobile devices. However, you don't necessarily need to buy a new mobile phone every time a new product is released. The bottom line is, there are several things you should consider before going out and purchasing a new mobile phone [ACCAN].

On 1 October 2021 the Digital Transformation Agency released the exposure draft of the Trusted Digital Identity Bill for public consultation. ACCAN made a submission in response to the Bill welcoming the stronger privacy protections and enforcement and penalty provisions that have been introduced. However, ACCAN argued in favour of an oversight authority with more funding and a mandate to ensure consumers were compensated for breach of the legislation [ACCAN].

The Australian Communications Consumer Action Network (ACCAN) has made a submission to the Department of Infrastructure, Transport, Regional Development and Communications in response to an issues paper regarding a new scheme for captioning on subscription (pay) television. In our submission, ACCAN supported the proposal to simplify the current Pay-TV rules which are overly complicated and do not provide any clarity about which programs will be captioned [ACCAN].
Measures addressing Google's dominance in search engine services, including a choice screen that provides consumers with a selection of search engines, should be introduced in Australia, as set out in the ACCC's third Digital Platform Services Inquiry interim report [ACCC].
Customers of Australia's second-largest telecommunications company are being asked to sign waivers of some of their rights when they sign up to phone and internet bundle packages. Australian Communications Consumer Action Network (ACCAN) Acting CEO Andrew Williams says that customers need to read the fine print and properly understand what they are getting into before agreeing to any waiver [CHOICE].
NBN Co intends to take as many as 6000 orders for upgrades from fibre-to-the-node (FTTN) to fibre-to-the-premises (FTTP) this month as its $2.9 billion program shifts into a trial mode [iTNews].

TPG Telecom has begun offering its fast fibre broadband product to businesses in regional areas of Australia through its own enterprise-grade fibre network. The telco said the product with up to 1Gbps speeds was now available in 26 regional towns and centres in NSW, Victoria, Queensland, Tasmania, WA, and the NT [iTNews].

WebNews #543

Unsubscribe
from this mailing
click here

Tel: (02) 9288 4000
Email: media@accan.org.au
Web: accan.org.au
Twitter: @accan_au
Facebook.com/accanau
LinkedIn: accan.org.au/LinkedIn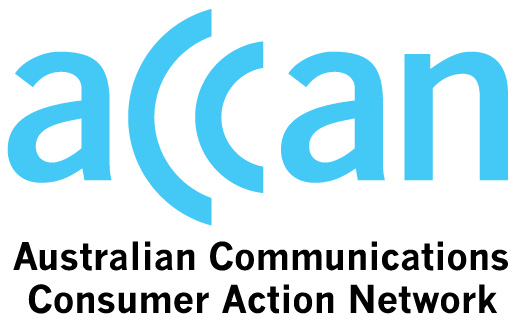 Although we take care to direct subscribers to sites with accurate and reliable content, we advise that ACCAN is not responsible for the content within external sites and has no control over the views, services or information contained therein. Information contained on external sites may not necessarily reflect ACCAN's policy, standards or beliefs.

The Australian Communications Consumer Action Network's representation of residential and other consumers' interests in relation to telecommunications issues is made possible by funding provided by the Commonwealth of Australia under section 593 of the Telecommunications Act 1997. This funding is recovered from charges on telecommunications carriers.

Copyright 2021 ACCAN.
{domain.address}
---