ACCAN Annual General Meeting, new Human Rights Commissioner announced, and more.

This week
IN THE NEWS: ACCAN Annual General Meeting, new Human Rights Commissioner announced, and more.

ACCAN has given notice that its 2021 Annual General Meeting (AGM) will be held on Thursday the 16th of September 2021 from 4:00pm. The meeting will take place virtually via Zoom. [ACCAN].

Australia's domain administrator, auDA, is the self-regulatory policy body responsible for the operation and management framework of the .au domain of the Internet. auDA is seeking input from Australians via a short survey to understand their awareness and use of internet domains and their engagement with auDA, so that auDA can better support the Australian community. All eligible survey participants will go in the prize draw to win one of 10 VISA gift cards, worth $100 each [auDA].

The Australian Human Rights Commission has announced that Lorraine Finlay will commence her term as the Human Rights Commissioner on 22 November 2021. Ms. Finlay is a Lecturer in Law at Murdoch University [Australian Human Rights Commission].

Telstra has decided to rebrand the infrastructure business that houses its telecommunications tower assets from 'InfraCo Towers' to Amplitel [itnews].

A push to provide the Wilcannia community better phone and internet coverage has led Telstra to commit to connectivity improvements for the town. Telstra will pause billing and service suspension for users, and will distribute pre-paid credit to vulnerable community members [ABC].

Australia's federal and state privacy commissioners have released guidance for developing tools that protect public health as Australia embarks on a pathway out of COVID-19. The guidance comes after Queensland police were directed not to access check-in app data "except in extraordinary circumstances," [InnovationAus].

NBN Co will give $37m of extra capacity to retailers, in the midst of lockdowns that have seen customers demanding faster broadband services.. The relief credit payments apply for the entire month of August, with September payments to follow if usage remains over 25% above 2020 levels [Channel News].

Telstra has changed how its network name displays on customers' devices in a controversial move to encourage more people to get the Covid jab. Fully vaccinated members of the loyalty program from late September will receive 2500 Telstra Plus Points, and go into a 100 million point prize draw [news.com.au]
Australia's eSafety commissioner says technology giant Apple can expect regulation if it continues to pause the roll out of controversial technology that would have scanned iCloud photo libraries for child sexual abuse material [InnovationAus].

The ACMA has opened applications for the upcoming 2021 auction of 5G spectrum in the 850/900 MHz band. The mid-band and mmWave spectrum has much more bandwidth available and will be key to providing capacity in higher demand areas. [iTWire]

WebNews #539

Unsubscribe
from this mailing
click here

Tel: (02) 9288 4000
Email: media@accan.org.au
Web: accan.org.au
Twitter: @accan_au
Facebook.com/accanau
LinkedIn: accan.org.au/LinkedIn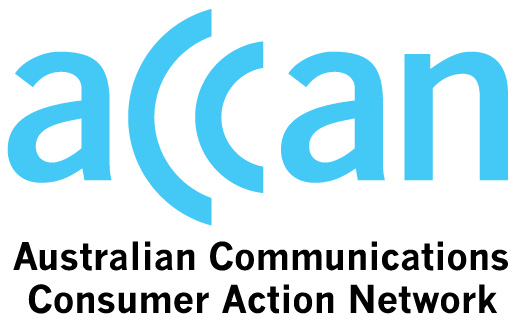 Although we take care to direct subscribers to sites with accurate and reliable content, we advise that ACCAN is not responsible for the content within external sites and has no control over the views, services or information contained therein. Information contained on external sites may not necessarily reflect ACCAN's policy, standards or beliefs.

The Australian Communications Consumer Action Network's representation of residential and other consumers' interests in relation to telecommunications issues is made possible by funding provided by the Commonwealth of Australia under section 593 of the Telecommunications Act 1997. This funding is recovered from charges on telecommunications carriers.

Copyright 2021 ACCAN.
{domain.address}
---