ACCAN's 2020 Grant Round opens soon, 5G phone tips, and more.

This week
IN THE NEWS: ACCAN's 2020 Grant Round opens soon, 5G phone tips, and more.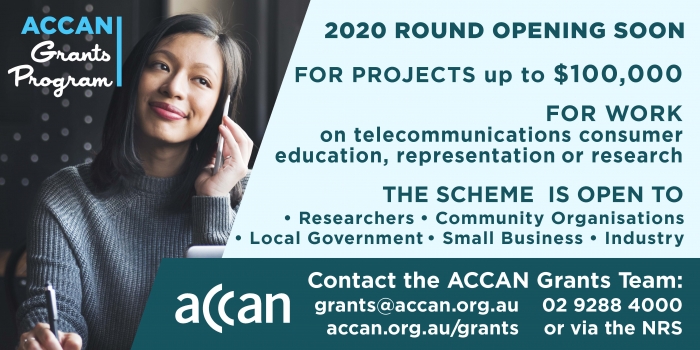 Expressions of Interest will be open 28 January – 25 February 2020. Up to $100,000 can be requested for research, representation, or education projects that address issues for telecommunications consumers in Australia. [ACCAN]

Thinking of asking Santa for a 5G phone this Christmas? Don't sign on the dotted line before you've read our tip. [ACCAN]

ACCAN has welcomed the Government's recent announcement that it will provide a total of $4 Million in funding to the national broadcasters, ABC and SBS, to introduce audio described broadcast content in the 2020/21 financial year. [ACCAN]

Telco customers will benefit from clearer communication from their providers; however, further efforts will be needed to protect consumers against unreliable telco services. [ACCAN]

The federal government has announced it will pour $9 million into building "public confidence in the safety of telecommunications networks" including 5G over the next four years. [The New Daily]

The Australian Communications and Media Authority (ACMA) has enhanced rules for telcos in order to better protect people against the 'bill shock' that can come from high international mobile roaming charges. [ACMA]

The top telephone scams which fooled people into handing over cash or personal details this year have been revealed. Impersonations of the NBN internet service were the most reported scams of the year, fooling almost 5000 people, according to the Australian Communications and Media Authority (ACMA). [9News]

Communications Alliance has revealed that there were 6.8 complaints on average per 10,000 services in operations (SIO) from July to September, as part of its first "expanded" Complaints in Context report. [ZDNet]

NBN Co is hoping to drive take-up in the fixed line footprint with a "first timers discount" that gives half-price internet for a year to new end users that have so far rebuffed offers to join. [itnews]

With less than one week until Christmas, Google has revealed the top trending games and gadgets for the tech head in your life. [news.com.au]

WebNews #503

Unsubscribe
from this mailing
click here

Tel: (02) 9288 4000
Email: media@accan.org.au
Web: accan.org.au
Twitter: @accan_au
Facebook.com/accanau
LinkedIn: accan.org.au/LinkedIn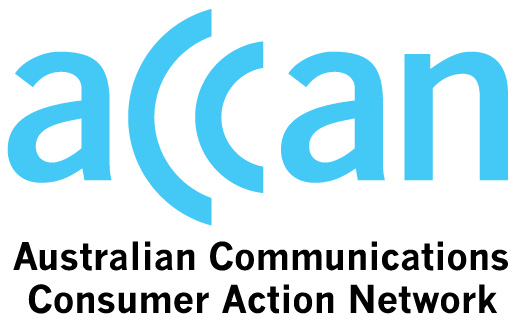 Although we take care to direct subscribers to sites with accurate and reliable content, we advise that ACCAN is not responsible for the content within external sites and has no control over the views, services or information contained therein. Information contained on external sites may not necessarily reflect ACCAN's policy, standards or beliefs.

The Australian Communications Consumer Action Network's representation of residential and other consumers' interests in relation to telecommunications issues is made possible by funding provided by the Commonwealth of Australia under section 593 of the Telecommunications Act 1997. This funding is recovered from charges on telecommunications carriers.

Copyright 2019 ACCAN.
{domain.address}
---