ACCAN submits to ACCC inquiry into NBN Access Pricing, plus Accessible Telecoms made easier with Vodafone

This week
IN THE NEWS: ACCAN submits to ACCC inquiry into NBN Access Pricing, plus Accessible Telecoms made easier with Vodafone.

ACCAN recently submitted to the ACCC's inquiry into NBN Access Pricing. The inquiry examined the possibility of ACCC regulating the price of entry level NBN services, in order to facilitate consistent pricing for services that are equivalent to legacy ADSL internet services. Click the link above to read ACCAN's submission.


The IPND is a secure database that stores all listed and unlisted public numbers assigned to communications services. Our submission highlighted that the draft IPND Code does not address the need for telcos to check monthly reports about connected and disconnected telephone services. [ACCAN]

The ACMA is reviewing rules about international mobile roaming (IMR) for Australian telcos. They have proposed that International Mobile Roaming rules should be applied via a service provider determination, rather than an industry standard. ACCAN supports of some, but not all, of the proposed changes. We agree with the tightening of existing International Mobile Roaming rules. However, we are concerned that some flexibility measures are too discretionary, and fail to provide appropriate consumer protections.[ACCAN]

ACCAN made a submission to the House of Representatives inquiry into 5G in Australia. ACCAN highlighted the need for whole of community engagement in the roll-out of 5G across Australia, emphasising the role that the telecommunications industry and government agencies need to undertake to ensure that consumer information is easily accessible, reliable and evidence based. [ACCAN]

ACCAN participated on the review of the industry code, C625 Information on Accessible Features for Telephone Equipment Code. The Code requires handset manufacturers to provide information about the accessibility features on their handsets to telcos. It also requires that handset manufacturers make this same information freely available to consumers. The updated Code also includes ACCAN's Accessible Telecoms service as an alternative way for consumers to get information about accessibility features for handsets. [ACCAN]

People with disability will now be able to access in-store information about telco products suited to their needs through a new partnership between disability telecommunications service Accessible Telecoms and Vodafone Australia. [iTWire]

The Australian Competition and Consumer Commission (ACCC) has initiated proceedings against telecommunications reseller Superfone for allegedly breaching consumer telemarketing protection laws. [ARN]

The telco has cut the price of all of its SIM only plans by $10 per month, excluding its $50 per month 15GB plan. The $10 discount on the promotion also applies to the first 12 months on plans with devices. That means you're looking at saving $120 over twelve months.[PC World]

Online platforms would see the amount of time that they have to pull down content after receiving a missive from the Australian eSafety Commissioner be reduced to 24 hours, under a new Online Safety Act for Australia. [ZDNet]

Optus is set to have a new CEO with Allen Lew stepping aside and deputy CEO Kelly Bayer Rosmarin taking the role from April 2020. [itnews]

WebNews #503

Unsubscribe
from this mailing
click here

Tel: (02) 9288 4000
Email: media@accan.org.au
Web: accan.org.au
Twitter: @accan_au
Facebook.com/accanau
LinkedIn: accan.org.au/LinkedIn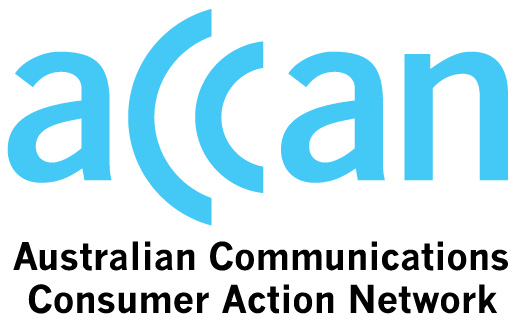 Although we take care to direct subscribers to sites with accurate and reliable content, we advise that ACCAN is not responsible for the content within external sites and has no control over the views, services or information contained therein. Information contained on external sites may not necessarily reflect ACCAN's policy, standards or beliefs.

The Australian Communications Consumer Action Network's representation of residential and other consumers' interests in relation to telecommunications issues is made possible by funding provided by the Commonwealth of Australia under section 593 of the Telecommunications Act 1997. This funding is recovered from charges on telecommunications carriers.

Copyright 2019 ACCAN.
{domain.address}
---