Accessible Telecoms amongst the finalists for the 2019 Australian Access Awards, Telstra to buy back debt of remote customers, and more

This week
IN THE NEWS: Accessible Telecoms amongst the finalists for the 2019 Australian Access Awards, Telstra to buy back debt of remote customers, and more.

ACCAN's Accessible Telecoms is amongst the finalists for the 2019 Australian Access Awards.The Awards, an initiative of the Centre for Accessibility, are a national celebration of organisations, designers, developers and content creators who are making efforts to implement accessibility in their digital resources. [Centre for Accessibility]

Telstra has pledged to buy back thousands of dollars in debt, improve credit checks, and discipline staff in an effort to rebuild trust with vulnerable customers who feel ripped off. [ABC News]

Optus has welcomed the draft decision by the ACCC stemming from its NBN wholesale service standards inquiry, saying that the inquiry should hold the NBN Co to account for service standards expected by retail service providers and end-users. [iTWire]

Vodafone has backed an idea floated by the Australian Competition and Consumer Commission (ACCC) that would see NBN Co introducing a speed 'buffer' so that a household's broadband connection more closely matches its wholesale speed tier. [Computerworld]

Telstra has called on the government to help combat a misinformation campaign on the health risks of 5G that has been carried out "on a scale we have not seen" before, driven by social media.[Guardian Australia]

New analysis of Roy Morgan data from the Australian Communication and Media Authority (ACMA) shows that nearly half of Aussie kids aged 6 to 13 own or use a mobile phone. [ACMA]

The Australian Communications and Media Authority used new powers on Tuesday to order telcos to block Emu Casino and Fair Go Casino. The new measures were announced earlier this month with the government warning Australians spent up to $400 million on illegal offshore gambling websites per year. [9news.com.au]

NBN Co is trialling a beta diagnostic tool with retail service providers that it says will help uncover faults faster and remove roadblocks to lodging a support ticket. [itnews]

After peaking at 1.2 million premises at this time last year, and heading downward for the following twelve months, the number of premises on NBN's 12/1Mbps plans is once again headed in an upward trajectory.[ZDNet]

In the latest Measuring Broadband Australia report, Optus customers were found to receive 87.6% of their plan's maximum speeds during peak hours (between 7pm and 11pm). [Gizmodo]

WebNews #502

Unsubscribe
from this mailing
click here

Tel: (02) 9288 4000
Email: media@accan.org.au
Web: accan.org.au
Twitter: @accan_au
Facebook.com/accanau
LinkedIn: accan.org.au/LinkedIn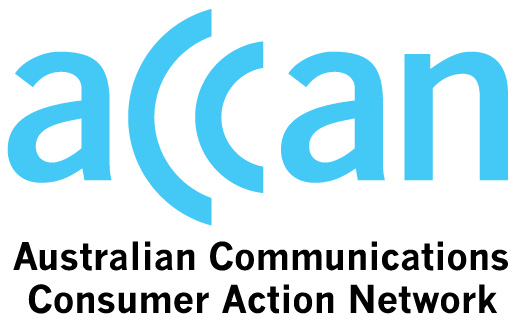 Although we take care to direct subscribers to sites with accurate and reliable content, we advise that ACCAN is not responsible for the content within external sites and has no control over the views, services or information contained therein. Information contained on external sites may not necessarily reflect ACCAN's policy, standards or beliefs.

The Australian Communications Consumer Action Network's representation of residential and other consumers' interests in relation to telecommunications issues is made possible by funding provided by the Commonwealth of Australia under section 593 of the Telecommunications Act 1997. This funding is recovered from charges on telecommunications carriers.

Copyright 2019 ACCAN.
{domain.address}
---