ACCAN's engagement with rural, regional and remote consumers has continually highlighted the importance of improving mobile communications outside of urban centres. Better mobile coverage will yield a range of benefits to regional and remote Australia including improved business opportunities, better access to essential services and enhanced safety and well-being.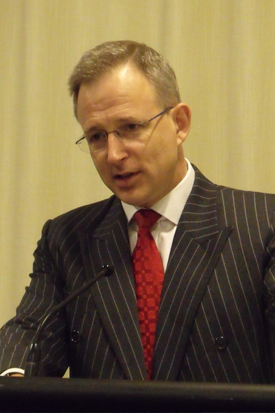 As such, ACCAN welcomed the government's proposal for a $100 million mobile coverage expansion program by holding the "Connecting the Country" forum in February 2014. The forum aimed to give rural community groups the best chance to improve mobile coverage in their areas. Attendees ranged from end-user community groups such as IRCA, the ICPA and CWA, to industry leaders Telstra, Optus and Vodafone and regulator and government representatives, including Parliamentary Secretary to the Minister for Communications, Paul Fletcher MP (pictured).

We are happy to report that the forum was a huge success with participants from all sides contributing to meaningful panel and Q&A sessions. A number of topics were discussed, from methods to facilitating and building partnerships between industry and community, to the specific specifications of program delivery methods.

Information gathered during the forum has been used to inform ACCAN's submission and to assist member organisations with their own submissions to the government which closed on February 28th.

ACCAN has also published its key insights from the forum to help communities improve their mobile coverage.
Download:

ACCAN's key insights176.07 KB