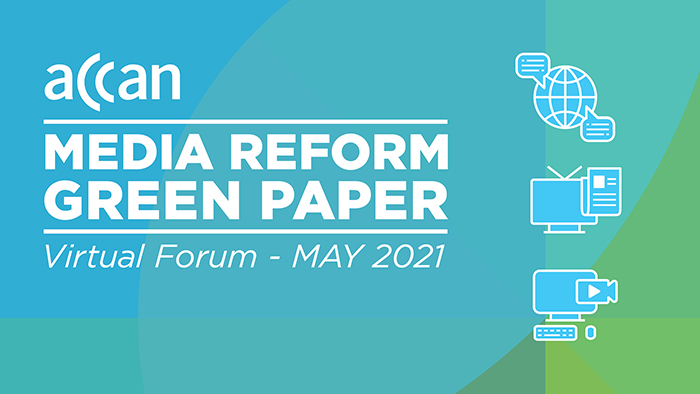 Over the last ten years, faster internet speeds have dramatically impacted the way that Australians consume media. Many Australians have switched from free-to-air television (FTA) to subscription video on demand services. These include streaming services like Netflix, Stan, and Kayo and broadcast video on demand (FTA catch-up services, or BVOD). According to the ACMA, 77% of Australian households now have at least one SVOD service, compared to 61% in 20171.
With viewers switching from free-to-air to online content, there have been many questions raised about how the traditional media industry can sustain itself in a world where advertising dollars follow audiences; with less people tuning in to traditional media, these outlets are less attractive to advertisers. Regional newspapers and television channels are also closing because of loss of advertising revenue. To help keep Australia's media sector alive, the Government needs to find a way to modernise television regulation.
With the expansion in dependency on data services and roll-out of 5G Mobile, the government is also looking at how they manage the limited spectrum used for telecommunications and broadcasting.
To encourage input and debate from interested parties about how the media laws should be changed, the Government released a Green Paper in November 2020 with proposals for new ways to fund Australian media and how it operates.
The proposals aim to support Australian free-to-air television broadcasters, provide more funding to the local screen production industry, and revive local media in regional and rural areas. In particular, the reform proposals look to address challenges such as:
The modern preference for online advertising means both commercial free-to-air television networks and local print media have less advertising revenue to support themselves.
Free-to-air television broadcasters have more competition from online streaming platforms such as Netflix, which charge subscription fees but are ad-free.
Local newspapers are closing because they have less advertising revenue and more online news outlets to compete with.
Free-to-air television broadcasters are legally obligated to produce and screen a certain number of Australian television programs each year, but streaming platforms have no local content obligations.
Why is ACCAN involved?
ACCAN is Australia's peak body for consumer representation in communications. We focus on goods and services encompassed by the converging areas of telecommunications, the internet and broadcasting, including both current and emerging technologies. The Media Reform Green Paper sits squarely at the intersection of ACCAN's responsibilities, with a key focus of the Paper being the proposed changes the way broadcasters use spectrum – a valuable resource also used by the telecommunications networks.
Accessible and affordable telecommunications networks – both broadband and mobile – are no longer just used to make phone calls or to search the internet. New technology means the internet is now the preferred way of accessing television content streaming and news delivery, with TV accessible from computers, mobile phones, tablets, laptops and smart TVs.
Mobile phones and other telecommunications enabled devices, and reliable broadband internet services, are now even more important to ensure all consumers can access digital media.
Key Insights from the Media Reform Green Paper Virtual Webinar
Even though consumers will be impacted by whatever changes eventuate as a result of the Media Reform Green Paper, ACCAN noted that most of the conversations involving the Paper were focused on the broadcasting and telecommunications networks.
On Tuesday 11th May 2021, ACCAN convened a virtual forum with Jock Given – Professor of Media and Communications, Swinburne University of Technology and Giles Tanner – former head of the Australian Communications and Media Authority's division responsible for radiofrequency spectrum management. The forum also featured panellists from key interest groups representing culturally diverse communities, regional Australians, Indigenous communities, people with disability and Older Australians to examine the Paper's proposals and what they would mean for consumers in Australia.
ACCAN's Director of Inclusion, Dr Wayne Hawkins, opened the consumer panel raising concerns that the Media Reform Green Paper does not discuss the needs of people with disability and the access features that people with disability need in order to be able to access and enjoy broadcast television in the same way as other Australians.
"There's been a long-time struggle to get the access features that people, especially people with sensory disabilities need in order to be able to enjoy the benefit from television, and that includes captioning for people who are deaf or hard of hearing, audio description for people who are blind or have low vision, and for Auslan users, Auslan interpreters on television," he said.
Dr Hawkins shared that many people living in poverty also have a disability, and may not be able to afford to upgrade their TV to access broadcast programs should spectrum changes make older TV's redundant.
Sally Rodgers, a small business owner in regional Victoria, and Dr Heron Loban, ACCAN Director and Chair of ACCAN's Indigenous Advisory Forum, both raised concerns about the digital divide between the connected and unconnected.
Speaking about her experience living on Thursday Island in the Torres Strait, Dr Loban said, "it really does concern me that if people don't have access to TV... we have drop-outs frequently, for days at a time, of the internet and so then the island turns in a cash economy, because there's no EFTPOS. It's just so different from the way we live and use media in Brisbane and the capital cities."
"I think that understanding the way media, the way the media landscape works in different communities, so culturally and socially and what value that has; that for Indigenous communities, media becomes part of our social and cultural fabric and the way for us to communicate and express who we are, our identity, our language, and sometimes I think that isn't very well understood," Dr Loban continued.
Jennifer Wilcox, President of the Australian Seniors Computer Club Association (ASCCA) agreed with the panel's comments on digital inclusion, adding, "It's all very well to say we'll go streaming on your internet, but there is a download quota and there's a speed limit as well."
The Virtual Forum also addressed how money from the potential sale of broadcasting spectrum could be re-invested into a fund to support more regional news and more Australian content.
Mohammad Al-Khafaji, the CEO of the Federation of Ethnic Communities' Councils of Australia (FECCA) said that he hoped any new funds could increase the provision of in-language content for multicultural communities.
"We've seen that SBS is trying to do more... subtitles to some of their most favourite... shows out there, and some of these reforms could actually be an opportunity for more programs being available in... more subtitled languages to be able to make sure that people who don't speak English can actually enjoy Australian content," said Mr Al-Khafaji.
"There is a great opportunity if the funding model means that SBS and the ABC will get more funding, then we would love to see more Australian content in language or... subtitled because ultimately any subscription-based service will add to the cost of... being able to access these language services. And that's especially hard for older Australians from multicultural backgrounds."
Insights from ACCAN's Media Reform Green Paper Virtual Forum will help to inform ACCAN's submission to the Government.
Full recording of ACCAN's Media Reform Green Paper is available below.
[Watch on YouTube - video will autoplay]

Transcript for the Media Reform Green Paper Virtual Forum759.38 KB
Background on the Media Reform Green Paper is available here.