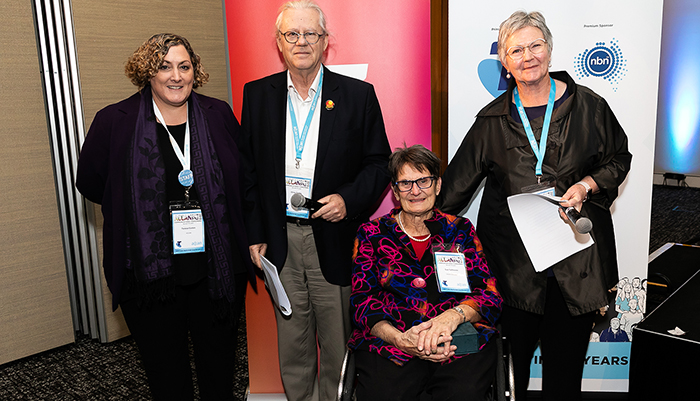 ACCAN board and staff are deeply saddened by the passing of Sue Salthouse.
Sue was a dedicated advocate for people with disability and made huge contributions to improving the accessibility of telecommunications for people with disability in Australia.
Prior to becoming a member of the inaugural ACCAN Board, Sue was on the Telecommunications Consumer Representation Working Group which developed the proposal for the creation of ACCAN. Sue served as Chairperson following ACCAN's first AGM in 2009 and stayed on as a member of the board until 2012. Sue also offered support to ACCAN's Standing Advisory Committee on Disability Issues, as Chair of the Committee from 2009-2010. In recognition of her pivotal and enduring commitment to communications consumers, Sue was awarded ACCAN Life Membership in 2019.
ACCAN will be forever indebted to Sue for her involvement in ACCAN's work and her tireless advocacy for people with disability. In her various roles at ACCAN Sue was a mentor for our staff, board, and committee members, and the guidance that she so generously offered has been instrumental to many of ACCAN's achievements. Sue assisted in the development of research and policy positions on improvements to the National Relay Service, access to emergency services, and access to information about the accessibility features of handsets. She also played a key role in guiding the development of ACCAN's Accessible Telecoms project.
Sue's commitment to achieving better outcomes for communications consumers with disability continues to guide the strong disability-focused work that ACCAN undertakes. ACCAN has no doubt that Sue's influence will continue to be felt for many years to come.
Our heartfelt condolences to Sue's family, friends, and loved ones. She was a very encouraging and knowledgable mentor for many new advocates and she will be sorely missed.