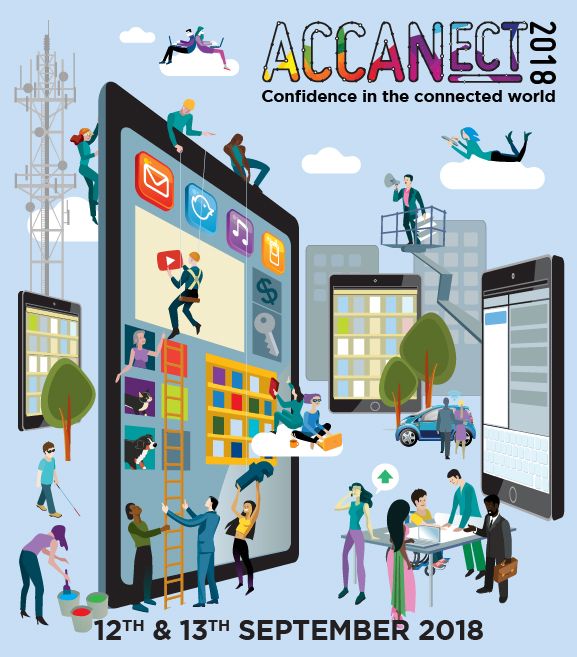 On the 12th and 13th September 2018, ACCAN held our annual conference - ACCANect. Revolving around the theme of 'Confidence in the Connected World', attendees were treated to two days full of informative talks and discussion panels from the telco industry, government bodies and academics.
Mark Pesce, inventor, author, educator and broadcaster kicked off ACCANect 2018 by reflecting on the progress that Australia has made in the telecommunications industry and predicting what is to come. From the impending arrival of 8K television to the incorporation of hologram technology into our everyday lives, Mark emphasised the need for industries, governments and consumers to think about a future that is going to be more heavily reliant on communications infrastructure than we can imagine.
ACCAN's Accessible Telecoms was also previewed at this year's ACCANect conference. Headed by Wayne Hawkins, Director of Inclusion at ACCAN and Helen Abric, Operations Managers at IDEAS, Accessible Telecoms will provide information about the accessible features of mainstream and assisted telecommunications products to people with a disability.
"Accessible Telecoms is going to be a one-stop service for providing essential information for people with a disability," said Wayne Hawkins. "It will provide consumers with the confidence they need to get connected and stay connected."
Accessible Telecoms will officially launch in November, so stay tuned for more information.
Australia's e-Safety Commissioner, Julie Inman Grant spoke to ACCANect about the important work that her office is undertaking to protect Australians online.
The Office of the e-Safety Commission is calling for online platforms and services to rethink the way that they design their products. They want to see safety, in relation to the protection of children and other vulnerable communities, at the heart of product development and functionality, become the new design imperative.
Julie and her team are also seeking to drive cultural change online & offline by teaching and reinforcing the 4 Rs for the digital age: Respect, Responsibility, Resilience & Reasoning skills.
One of the most highly anticipated panels of ACCANect 2018 was the 'Ask the Telcos' panel. Featuring representatives from Telstra, Optus, Vodafone, and Southern Phone, attendees had the opportunity to put their burning questions to our panel face-to-face.
Affordability for personal and small business consumers was a key theme highlighted throughout the questions asked by attendees. In particular, the telcos were asked about watching out for customers who may not realise they were signing up for products and services beyond their means.
The selling practices of telcos have been flagged for review in the Telecommunications Consumer Protection. The Code is important because it sets out rules for how telcos must deal with their customers. It covers sales, customer service, contracts, billing, credit and debt management, financial hardship, and transfers between providers. You can read ACCAN's submission to the TCP Review here.
"Optus is quite strong on their credit policy…We're continuing to use the data that's available to monitor [customers] and make sure we don't put them into hardship situations." Mark Baylis, VP of Service for Digital Services and Customer Engagement at Optus explained.
Dan Lloyd, Chief Strategy Officer and Corporate Affairs Director at Vodafone echoed this sentiment.
"We think we've put in the policies and procedures so that we don't get people into those scenarios," he said.
"This is a really big issue, and one that we're very engaged with," shared Michael Ackland, Head of Sales and Service at Telstra.
"The amount that people spend on their broader telecommunications and entertainment needs, at lower incomes, is becoming a bigger percentage. [As a result] the need for our vigilance is getting higher."
ACCANect 2018 came to a close with our 'Great Debate', which saw our teams argue whether 'always on' broadband is essential. The Affirmative team won by a whisker with adjudicator Delia Rickard (Deputy Chair, ACCC), announcing that the room's passionate audience had declared their support for the points made by the Affirmative team.
Thank you to all our wonderful speakers and attendees for making ACCANect 2018 an unforgettable event.