In June we were very excited to sign a new funding contract with the Department of Communications and the Arts. The new contract ensures that ACCAN will continue to represent consumers in the telecommunications industry for the next five years.
When the contract was signed, ACCAN CEO, Teresa Corbin said: "The recent ACCAN review highlighted the strong support for the work ACCAN does and many stakeholders reinforced the need for a united consumer voice in the telecommunications industry.
"A big thank you must go to ACCAN's supporters including members, volunteers and industry representatives for their ongoing commitment to ensuring we remain a relevant and effective organisation."
The end of the previous contract (2012-17) was a time to reflect on ACCAN's major achievements for the past five years. Here are some highlights from 2012-17: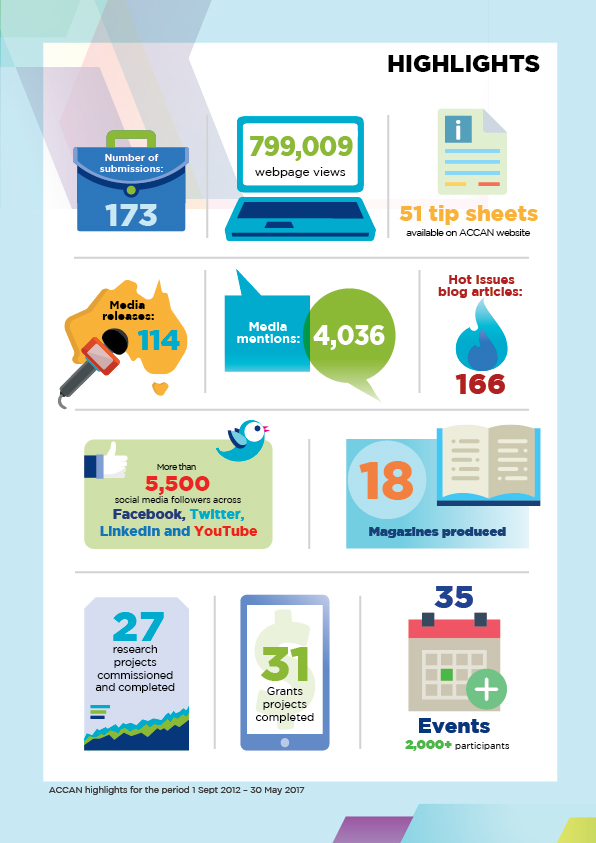 Download the report below for an in-depth look at our achievements and consumer wins from 2012-17.
Download:
ACCAN Final Report 2012-171.06 MB
Download:

ACCAN Final Report 2012-17666.64 KB
Highlights (text version)
173 submissions
799,009 webpage views
51 tip sheets available on the ACCAN website
114 media releases
4,036 media mentions
166 Hot Issues articles
More than 5,500 social media followers across Facebook, Twitter, LinkedIn and YouTube
18 magazines produced
27 research projects commissioned and completed
31 Grants projects completed
35 events held with more than 2,000 participants