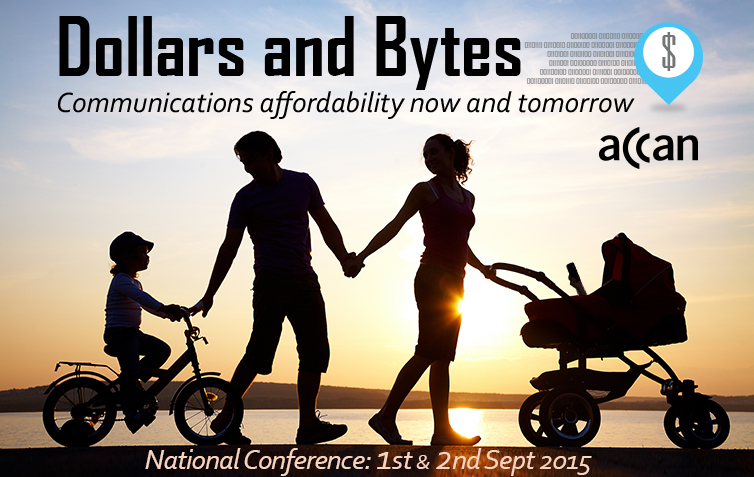 Our 2015 Conference, Dollars and Bytes – Communications affordability now and tomorrow, is fast approaching! Only one week to go, so now is the time to register before registration closes at midnight on Friday, 28 August. (Due to browser settings some people may have trouble connecting to the registration site using Firefox. If this is the case, please use another browser such as Google chrome).
It's going to be a great two days. We've got over 40 speakers and panellists from a range of organisations across industry, community groups and government.
Access the full Conference Program online. Some of the presentations and sessions to look forward to are:
The keynote by Claire Milne, Visiting Senior Fellow, Department of Media and Communications, London School of Economics
The opening address by the Hon. Malcolm Turnbull MP, Minister for Communications
Presentation by ACCC Chairman, Rod Sims
Presentation by Digital Transformation Office CEO, Paul Shetler
By attending the Conference you'll get the chance to network and meet new people, be inspired, be heard and learn new insights from the range of speakers and panellists.
Remember, registrations close at midnight on Friday, 28 August! Hope to see you at the Aerial UTS Function Centre on 1-2 September.
Download:

One week until the ACCAN Conference.docx15.47 KB
Download:

One week until the ACCAN Conference.pdf320.77 KB