How to apply
2014 Guidelines
Consult the Guidelines for everything you need to know about how the ACCAN Grants Scheme works.
Download:

ACCAN Grants Scheme Guidelines 2014480.42 KB

Download:
ACCAN Grants Scheme Guidelines 20148.16 MB

FAQs
Most of us consider phones and internet to be essential to our lives but there are still widespread problems with these services.
The ACCAN Grants Scheme funds projects that help consumers with issues in the communications space.
Scheme Overview
The Scheme accepts applications during a seven week period each year. Applications are assessed by an expert, independent panel. We offer grants starting at $10,000 all the way up to $60,000. The project must deal with a communications consumer issue and complete in the following financial year.
What is eligible for funding?
A communications consumer issue is one that is systemic, persistent and generally widespread affecting consumers of telecoms and internet services. The issue could be something that affects the general public or it might be issues affecting a particular part of the community such as children, older people, or people with disabilities.
It could be something that results in rip-offs or people getting into debt. These are just some examples.
In the past, eligible projects have covered topics like the ones below:
Consumer rights and awareness


Mobile coverage and performance


Future implications of communications technology on consumers


Small business communications issues


Privacy of consumer information


Telecoms and internet service contracts


Regulation of the telecoms industry


Universal accessibility of telecoms


Digital literacy especially for groups where this prevents access


Telecoms affordability


Consumer behaviour


Telecoms and internet trends and usage patterns


Services and approaches to delivering service in the telecoms and internet industry


Online security and safety


Social impacts on particular groups of consumers by technology or product changes
What won't get funded?
We often see applicants apply for funding to update their organisation's phone and IT systems, set up their web site, or even buy iPads for clients. These applications are usually ineligible as the Grants Scheme doesn't provide funding just to further an organisation's own interests or to improve its internal systems. Eligible projects contribute to ACCAN's strategic work and objectives. Make sure you have a look at our strategic plan and website before applying.
What should I put in the budget?
You are required to submit a budget with your application. You must think of, and reasonably estimate, each cost necessary for your project.
You may need to buy or rent equipment, fund a research worker, pay for travel, printing, or even room hire. Think through all the things you will need to make your project a success.
What ACCAN won't fund are your overheads, such as administration levies, general office space and so on.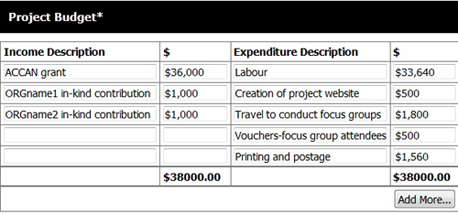 This budget table is an example only
Do I include GST?
No. All amounts you put in the budget should exclude GST. If you are successful, GST will be paid in addition to the amount you apply for.
Who can apply?
Eligible projects have come from a range of applicants, such as individual researchers, community organisations, local councils and universities – all you need is an ABN and some great ideas. Check our website to see previous grant recipients. We do strongly encourage partnerships, so if you're interested in partnering up with a community organisation or university, get in touch with us as we may be able to make an introduction.
How do I make an application?
All our grants applications are processed through a system called SmartyGrants. SmartyGrants is Australia's most widely used grants management system and provides a simple step by step process to lodge your application online.
The SmartyGrants system doesn't have a function which allows a user to share the application form with others who may be contributing. A simple solution might be to type up your responses in a Word document and once that has been passed around colleagues and finalised, you can copy and paste your answers into the form in SmartyGrants.
If the Panel needs more information such as annual reports or other documents they will request it, they do not need to be uploaded at the time you make the application.
What will happen after I make an application?
Once you submit an application it will be assessed by an independent panel in May and the successful applicants are usually notified by mid-June. ACCAN will then enter into a contract with the successful applicants to deliver the project over the following financial year. Unsuccessful applicants have two weeks to seek and receive individual feedback on their application.
Watch one of the 2013 successful grants winners, Justine Humphry, chat about her project and grant application. Justine offers some great tips on compiling budgets and project planning and discusses the process she went through when thinking about and writing her application.
Justine's project 'Homeless and Connected' is researching the use of mobile phones among young people and families who are experiencing homelessness.


Strategic Plan
Review ACCAN's Strategic Plan 2012-2015 for more information on the work that ACCAN does and consider how your project might fit with our strategic goals.


Contact us
We encourage applicants to get in touch with the ACCAN grants team before submitting an application.
Email: This email address is being protected from spambots. You need JavaScript enabled to view it.
Call: 02 9288 4000; TTY 02 9281 5322 and ask to speak to a member of the grants team.
Apply
Applications are made online through a system called SmartyGrants. The form can be accessed on the Smartygrants website.
The ACCAN grants team can help with questions about the application form or the online application process. You can also contact ACCAN for a Microsoft Word version or a printed copy of the application form.