Step by Step Process
The Grants team are happy to assist you at any step of the process.
Step 1
Download the Guidelines, our Policy Priorities and Strategic Plan and read them.
Step 2
Create a rough draft of your project idea.
Step 3
Contact the grants team to review the idea.
We encourage applicants to get in touch with the ACCAN grants team before submitting an application.
Email: This email address is being protected from spambots. You need JavaScript enabled to view it.
Call: 02 9288 4000; and ask to speak to a member of the grants team.
Step 4
Thoroughly plan out your project, then go through the form and complete all the questions in your response.
Here is a word version of the form that can help you complete the questions. Do NOT submit this form but use the online application form. The FAQ video will also help.
Step 5
Lodge your application in Smartygrants. Good luck!


Filling Out the Application
How do I make an application?
All our grants applications are processed through a system called SmartyGrants. SmartyGrants is Australia's most widely used grants management system and provides a simple step by step process to lodge your application online.
The SmartyGrants system doesn't have a function which allows a user to share the application form with others who may be contributing. A simple solution might be to type up your responses in a Word document and once that has been shared between colleagues and finalised, you can copy and paste your answers into the form in SmartyGrants.
If the Panel needs more information such as annual reports or other documents they will request it, they do not need to be uploaded at the time you make the application.
What should I put in the budget?
You are required to submit a budget with your application. You must think of all the income components from every source. You must think of, and reasonably estimate, each cost (expense) necessary for your project.
Income and expenditure need to add up to the same amount: you can't spend more than the project receives, and you can't spend less either.
The income table is a summary of all other sources of funding you receive for this project, for example if your organisation is contributing cash or in-kind support. If you have another grant for this project, show that grant and amount in the list. Each source should be listed separately. Make sure the figures add up correctly.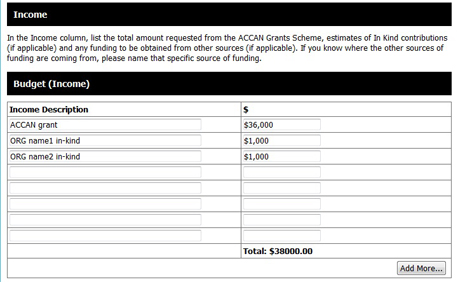 This budget table is an example only
You may need to buy or rent equipment, fund a research worker, pay for travel, printing, or even room hire. Think through all the things you will need to make your project a success.
ACCAN won't fund overheads, such as administration levies, general office space and so on. Check the complete list of exclusions in the guidelines. Make sure the figures add up correctly. Again, the total for income must be the same as the total for expenditure.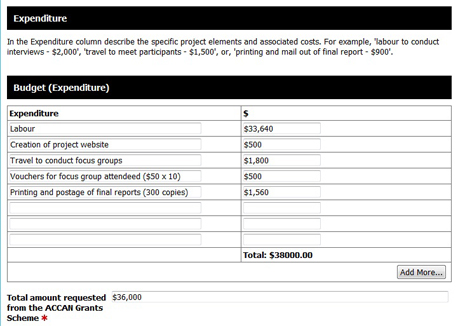 This expenditure table is an example only
Do I include GST?
No. All amounts you put in the budget should exclude GST. If you are successful, GST will be paid in addition to the amount you apply for.


What will happen after I make an application?
Once you submit an application it will be assessed by the independent panel in May against the criteria listed in the Grant Scheme Guidelines.
Successful applicants are notified mid-June. ACCAN will then enter into a contract with the successful applicants to deliver the project over the following financial year. Unsuccessful applicants have two weeks to seek and receive individual feedback on their application.


Application form
Applications are made online through a system called SmartyGrants. The grant round opens on Monday 8th February 2016. From that date you will be able to begin your online application through SmartyGrants, until the round closes on Tuesday 15th March 2016. Please let us know if you encounter any accessibility issues.
The ACCAN grants team can help with questions about the application form or the online application process. You can also download the Microsoft Word version of the application form.
Download:
2016 ACCAN grants application form.docx113.47 KB
Do NOT submit this form but use the online application form.