National Farmers' Federation CEO speaking at ACCANect 2019, nominations open for ACCAN Board, and more

This week
IN THE NEWS: National Farmers' Federation CEO speaking at ACCANect 2019, nominations open for ACCAN Board, and more.
Interest in regional, rural and remote issues? Don't miss National Farmers' Federation CEO Tony Mahar at ACCANect2019. Hear how inputs from a wide variety of groups from education, to farming and agriculture has helped the Regional, Rural and Remote Communications Coalition to make considerable progress in raising the profile of the communications needs of regional and remote Australians. [ACCAN]

ACCAN is seeking nominations for Directors to fill three vacancies on its Board. In order to ensure an appropriate balance, the Board is particularly seeking candidates with legal and regulatory expertise or experience; and/or experience in financial management and governance in a not for profit organisation; and/or with lived experience of disability; and/or an understanding of the issues affecting young consumers and/or small businesses.[ACCAN]

The Government has contracted ACCAN to research the ways in which people who are Deaf, Deafblind, or have hearing or speech impairment use the new Accesshub website. Find out more and register your interest. [ACCAN]

Australian consumers wanting access to their personal data from telcos, social media, fitness trackers and the like were often not given all the data collected about them, researchers from UTS and Western Sydney University have found. [itnews]

Aussie Broadband is urging NBN Co to create a "half-price" product for disadvantaged users, while also providing more compelling options for users whose lines - and budgets - support going above 100Mbps. [itnews]

Australia's consumer watchdog has handed down 23 proposed changes in a new report into the behaviour of the world's biggest tech giants. [news.com.au]

Optus has pulled the plug on leasing plans, meaning that they're no longer offered in Australia. [Gizmodo]

Shadow minister for telecommunications Michelle Rowland has called upon "industry, standards bodies and regulators" to fix Australia's phone numbering system and prevent call spoofing to make life harder for scammers. [itnews]

TPG owned Internode has won Roy Morgan's Internet Service Provider Customer Satisfaction Monthly Award for June with a customer satisfaction rating of 82%. [Roy Morgan]

Telstra CEO Andy Penn came into the studio to answer Ray's questions about the NBN, offshore call centres and responding to customer complaints. [2GB]

WebNews #490

Unsubscribe
from this mailing
click here

Tel: (02) 9288 4000
Email: media@accan.org.au
Web: accan.org.au
Twitter: @accan_au
Facebook.com/accanau
LinkedIn: accan.org.au/LinkedIn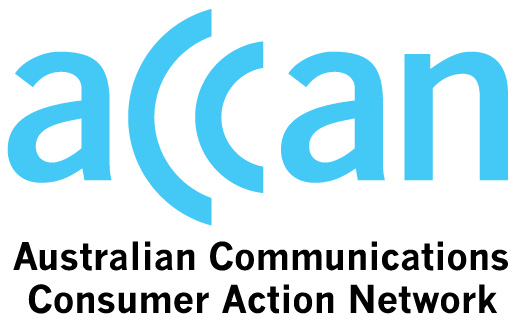 Although we take care to direct subscribers to sites with accurate and reliable content, we advise that ACCAN is not responsible for the content within external sites and has no control over the views, services or information contained therein. Information contained on external sites may not necessarily reflect ACCAN's policy, standards or beliefs.

The Australian Communications Consumer Action Network's representation of residential and other consumers' interests in relation to telecommunications issues is made possible by funding provided by the Commonwealth of Australia under section 593 of the Telecommunications Act 1997. This funding is recovered from charges on telecommunications carriers.

Copyright 2019 ACCAN.
{domain.address}
---