NBN Co CEO speaking at ACCANect 2019, ACCC inquiry into NBN Wholesale Service Standards explained, and more

This week
IN THE NEWS: NBN Co CEO speaking at ACCANect 2019, ACCC inquiry into NBN Wholesale Service Standards explained, and more.
Join us ACCANect 2019 to hear from NBN Co CEO Stephen Rue as he provides an update on the organisation's progress towards their goal of finishing the roll-out of NBN services by 2020

With over 25 sessions over two days, there's something for everyone at ACCANect 2019. Register now! [ACCAN]

ACCAN's policy team explains what the ACCC's inquiry into NBN Wholesale Service Standards means for consumers. [ACCAN]

Telstra is once again making changes to its mobile phone plans. If you are an existing Telstra mobile customer, this may impact you. From 26 August 2019, Telstra will be moving hundreds of thousands of customers off their old mobile phone plans and onto one of Telstra's new plans. [ACCAN]

After a significant increase in complaints per 10,000 services in operation (SIO) during the first quarter of the year, consumer complaints to the telecommunications ombudsman fell by 12% in the most recent quarter among participating service providers in the Communications Alliance Complaints in Context report. [ZDNet]

The Centre Alliance's proposal to beef up the Do Not Call Register and force political parties to offer an 'unsubscribe' option is back up for debate after lapsing at the end of the last parliament. [itnews]

Nu Mobile has quietly launched into the market with reconditioned iPhones and Galaxy devices, a chance to swap devices anytime, and the ability to rollover included data up to a 200GB limit. [itnews]

Leigh Star explains how scammers pretend to be someone else in SMS and how to know not to click on a scam SMS. [Pickr]

Trial users of NBN Co's Sky Muster Plus service had a quarter of their data use unmetered and averaged 43Mbps speeds, according to retail service provider SkyMesh. [itnews]

An increase in copper wire theft in the Northern Territory is leaving rural residents without phone or internet connections and unable to call for help in the event of an emergency. [ABC]

NBN Co's efforts to make it possible to get gigabit speeds on HFC will help alleviate the scaling problem that exists due to the pricing model for CVC, according to Launtel [iTWire]

WebNews #489
Unsubscribe
from this mailing
click here

Tel: (02) 9288 4000
Email: media@accan.org.au
Web: accan.org.au
Twitter: @accan_au
Facebook.com/accanau
LinkedIn: accan.org.au/LinkedIn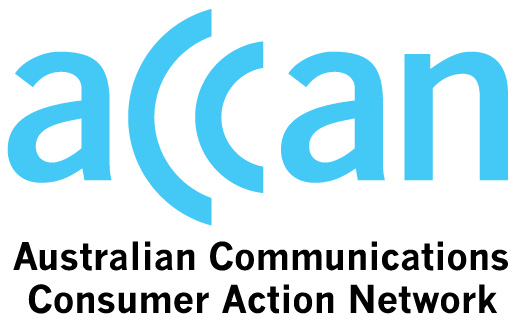 Although we take care to direct subscribers to sites with accurate and reliable content, we advise that ACCAN is not responsible for the content within external sites and has no control over the views, services or information contained therein. Information contained on external sites may not necessarily reflect ACCAN's policy, standards or beliefs.

The Australian Communications Consumer Action Network's representation of residential and other consumers' interests in relation to telecommunications issues is made possible by funding provided by the Commonwealth of Australia under section 593 of the Telecommunications Act 1997. This funding is recovered from charges on telecommunications carriers.

Copyright 2019 ACCAN.
{domain.address}
---