ACCC blocks TPG and Vodafone merger, Australians primarily turn to mobile phones to access the internet, and more.

This week
IN THE NEWS: ACCC blocks TPG and Vodafone merger, Australians primarily turn to mobile phones to access the internet, and more.

TPG and Vodafone's planned $15 billion merger has failed to clear Australia's competition regulator, sending both telcos shares plummeting - with legal action to follow. [itnews]

Over six in ten Australian consumers see "estimated" download speeds on broadband of less than 24Mbps, new numbers from the ACCC show. [itnews]

Mobile handsets are Australia's most used service in operation (SIO) for internet activity, according to the Australian Competition and Consumer Commission's (ACCC) new internet activity report. [ZDNet]

The campaign, in partnership with the Association for the Blind, was designed to raise awareness of the fact that Australia is the only developed country in the world not to offer audio description on TV. [B&T]

TPG has claimed first place for the third consecutive time in the fifth broadband speed-monitoring report by the Australian Competition and Consumer Commission (ACCC), delivering 89% of its maximum plan speeds overall and 88% during busy hours for downloads in the first measurements for 2019. [ZDNet]

The Federal Court is set to answer whether slapping large digital screens on the back of payphones is "low impact" after Telstra was accused of a "cash grab". [9news.com.au]

Optus has provided its first major look in over two years at a digital assistant that can be summoned from inside voice calls, showing it facilitate a business conversation between different language speakers in real-time. [itnews]

Optus will build out 30 5G sites in Melbourne as part of the rollout, while the remaining 20 will be dotted around Sydney's suburbs. [Finder.com.au]

So-called 'cyber incidents' continue to be a leading source of data breaches that threaten Australians' privacy, according to figures released by the Office of the Australian Information Commissioner (OAIC).[Computerworld]

When customers sign up to Telstra Plus they will be assigned to one of three tiers — Member, Silver and Gold — depending on their average monthly spend for the previous 12 months. Silver members will receive one Telstra Platinum tech support call per year and $75 Telstra TV Box Office credit. Gold members will receive access to around-the-clock tech support through Telstra Platinum, which the telco said is valued at $120 per year. [Computerworld]

WebNews #472

Unsubscribe
from this mailing
click here

Tel: (02) 9288 4000
Email: media@accan.org.au
Web: accan.org.au
Twitter: @accan_au
Facebook.com/accanau
LinkedIn: accan.org.au/LinkedIn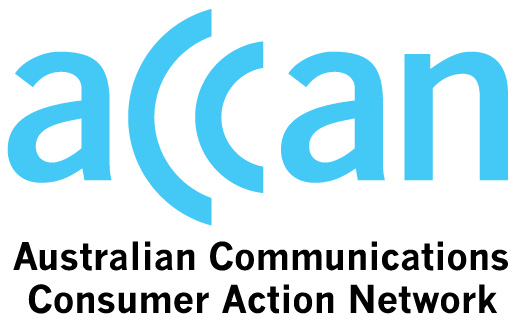 Although we take care to direct subscribers to sites with accurate and reliable content, we advise that ACCAN is not responsible for the content within external sites and has no control over the views, services or information contained therein. Information contained on external sites may not necessarily reflect ACCAN's policy, standards or beliefs.

The Australian Communications Consumer Action Network's representation of residential and other consumers' interests in relation to telecommunications issues is made possible by funding provided by the Commonwealth of Australia under section 593 of the Telecommunications Act 1997. This funding is recovered from charges on telecommunications carriers.

Copyright 2019 ACCAN.
{domain.address}
---