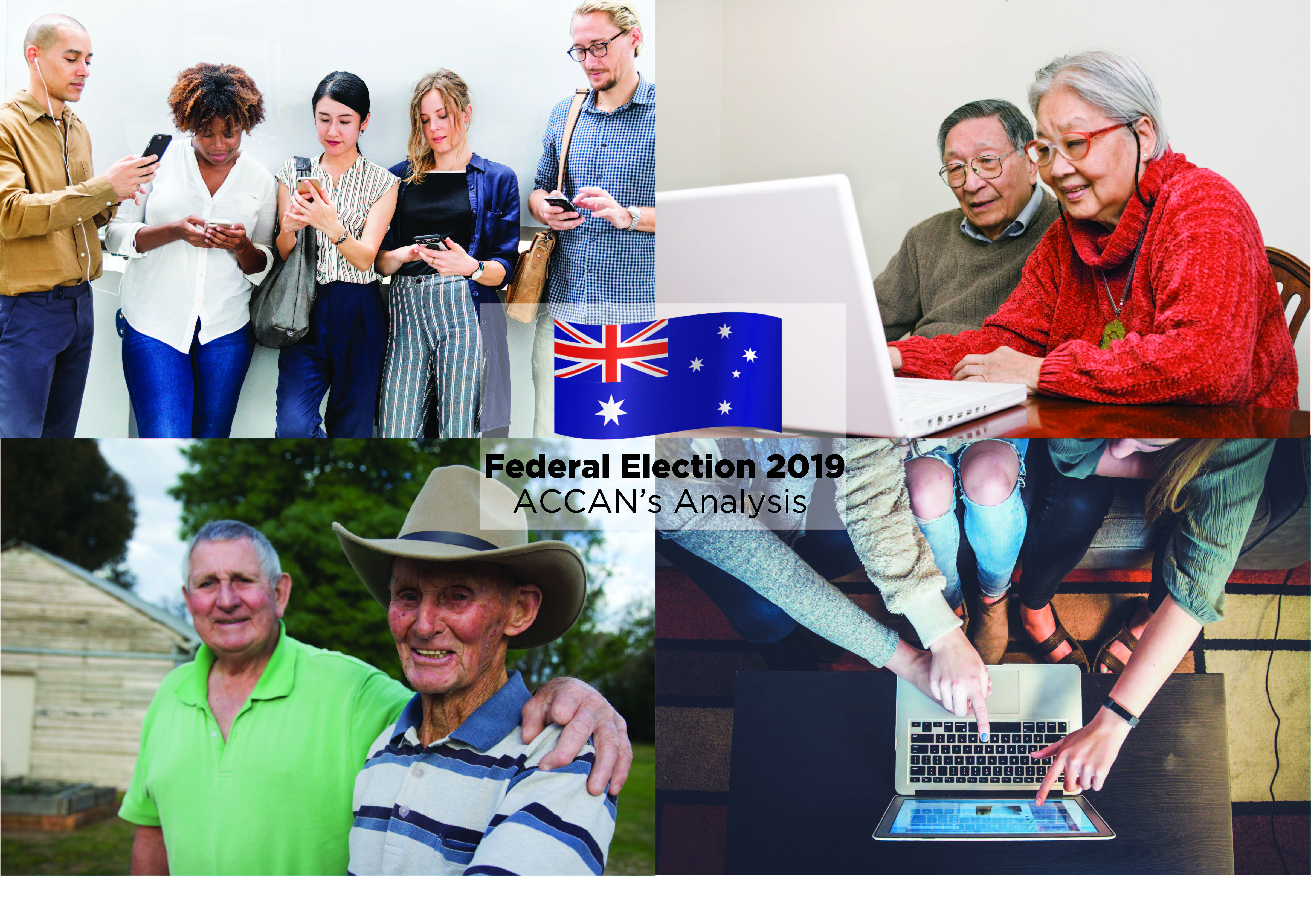 With the 2019 Federal Election on its way, Labor, Liberal and the Greens have begun to announce the policies that they will take to the election.
ACCAN will be compiling the communications policies of the major parties in an effort to provide Australians with a quick and easy guide to each party's priorities.
Please note that this is a live blog and will be updated as new policies are announced.
Last updated: 14.05.19
The Greens
Invest $58 million over four years to advance captioning, audio description, relay and translation services, and access to Auslan, as well as pursuing the necessary regulatory amendments
Establish a National Disability Telecommunications Service, providing a national resource for telecommunications products and services information, training, and support at a cost of $3.5 million over four years.
Require transparent review of NBN pricing structures so retailers provide consumers with the best possible options and ensure affordable base-rate broadband packages are available to low income households.
Establish a Federal Telecommunications Concession ($60 each quarter) payable to all holders of a DHS Health Care Card at a cost of $1.3 billion over the forward estimates. This payment will replace the limited Telephone Allowance and fund an NBN migration program for vulnerable consumers to help close the digital divide and enable all Australians to participate fully in our digital economy, society, and government.
Update the Telecommunications Consumer Protection Code to drive better customer service and industry practice; and Empower the Telecommunications Industry Ombudsman to facilitate complaint resolution.
Ensure that families and businesses, no matter where they are, can access enough data to meet their needs at a fair price; Ensure the use of best available technologies including fixed wireless and fixed line services (with satellite the technology of last resort, where no other options are possible).
Extend the Mobile Black Spot Program at a cost of $100 million per year
Expand the ACCC Broadband Monitoring Program to include Fixed Wireless and Satellite, at a cost of $1.8 million
Labor
Digital Inclusion Drive to get more older Australians and low-income households connected to the NBN, making our country more modern and more inclusive.
Improve speeds and reliability for Fibre to the Node households: Labor will direct NBNCo to fix in-home cabling problems that degrade service quality for households on the copper NBN at no cost to those affected. Labor says this will reduce dropouts and improve speeds for broadband services in up to 750,000 Fibre to the Node households.
Pledge to safeguard small businesses against unreasonable and excessive periods of NBN downtime and provide greater accountability.
Undertake trials of fibre upgrades to validate costs and assess co-investment mechanisms to responsibly deliver targeted upgrades over the medium term.
Commence an immediate review of the economics of the NBN, including the implications of the multi-technology mix on NBNCo's long-term cash flow position, capital structure, pricing evolution, and the capacity of NBNCo to co-invest in future infrastructure upgrades under a range of market scenarios.
Establishing an NBN Service Guarantee to improve service standards, and better protect consumers and small businesses against excessive NBN downtime.
Undertaking a review of the future funding and capacity requirements of the NBN fixed-wireless network.
Regional, Rural and Remote Communications
Mobile Black Spot Program: Labor has pledged to allocate $160 million to deliver improved mobile coverage through two further rounds of the Mobile Black Spot Program, as well as strengthening co-location and infrastructure sharing opportunities for new mobile towers funded by the program.
Invest in local projects to address regional connectivity issues: Labor has pledged to allocate $60 million to local projects to address regional connectivity issues by working with the States and Territories, and local government and other stakeholders, to develop Connected Community Plans. Labor says this place-based approach will help identify priorities for investment in local connectivity projects and digital literacy initiatives, including in remote Indigenous communities.

This will include a $25 million investment into a network of Digital Skills Hubs to benefit 500,000 individuals
Improve data collection to support better decision-making: Labor say they will work with industry and regulators to develop more accurate and comparable mobile coverage maps to support policy making. We will also empower the ACCC to track capital investment in regional mobile networks, including 5G, to support policy analysis, program design and decision making to benefit regional consumers.
Work with the States and Territories to better co-ordinate investment: Labor says they will work with the States and Territories to maximise co-investment opportunities in mobile and other network infrastructure; ensure that Commonwealth investment in road and rail projects incorporates a communications coverage plan where feasible; and investigate co-building of mobile network infrastructure in areas of defined need such as transport routes, where public land can be leveraged in exchange for cooperation amongst mobile network operators.
Improve consistency of back-up power arrangements for new mobile towers located in bushfire prone areas: Labor pledges to work with industry and consult experts on options to improve the consistency of battery back-up arrangements for new base stations built in bushfire prone areas.
Improve Remote Indigenous Communications: Labor has pledged $7 million to improve connectivity in remote Indigenous communities with the aim of improving access to telehealth, education and tourism opportunities.
$4 million for audio description at the ABC and SBS to deliver 14 hours of audio described TV content per week, starting in 2019-20. Australia is the only English-speaking OECD country without audio description. This will give more Australians access to our public broadcasters.
Liberal/National Coalition
Following the 2018 Regional Telecommunication Review, the Government pledged $220 million towards regional communications.This includes:

$160 million for two new rounds of the Mobile Black Spot Program
$60 million for a new Regional Connectivity Program
A digital tech hub to improve digital literacy
$15 million investment into the creation of five more Regional Study Hubs, which aims to support university students to stay in their local communities.
Improving connectivity in the Western Australian Grainbelt Region: The Government will provide $2.0 million to conduct a feasibility study to assess ways to improve digital connectivity, using existing infrastructure, in the Grainbelt Region of Western Australia.
Enhancing complaints handling for telco consumers: The Government will direct $7.2 million over four years to ensure consumers' issues with telecommunications services are resolved quickly and effectively. The Australian Communications and Media Authority (ACMA) will take on oversight of the Telecommunications Industry Ombudsman (TIO) Scheme, benchmarking and monitoring performance of the Scheme and introduce enhanced public reporting about telecommunications complaints.The changes will increase transparency about complaint handling and help to ensure consumers get the level of service they expect from their provider.
Independents
The following independent candidates have shared their plans for the NBN and other issues in the telco space:
Rob Oakshot - Independent for Cowper
Rob is campaigning for minimum service standards for NBN speed, installation and servicing, including timely response to faults and outages.
He has also highlighted the NBN divide in Belligen, with some households receiving fibre-to-the-curb, while others are on fixed wireless services.