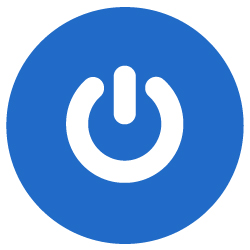 Connection will be arranged by your retail service provider after you have ordered and agreed to a service. A standard nbn installation is free of charge. However, retail service providers may charge connection fees for their plans.
Retailers must supply services within a reasonable timeframe under Australian Consumer Law. How long it takes to get connected will depend on your location and retail service provider. Currently, there is a waiting list for connections.
Do I contact nbn about a connection?
No. When you order a plan from a retail service provider they will organise for your connection.
What is the process for getting connected?
There are six easy steps to get connected:
Choose a retail service provider and plan which suits your needs


Your chosen provider will inform you if you are eligible and give you an estimated installation date


nbn will contact you to confirm an installation time and date


Your can purchase, or you retail service provider can provide you with a router


The nbn technician will install the equipment (satellite dish, internal and external equipment and the required wiring); this may take a few hours and you will need to be at home.


Plug your computer or the router into the nbn modem to begin using Sky Muster services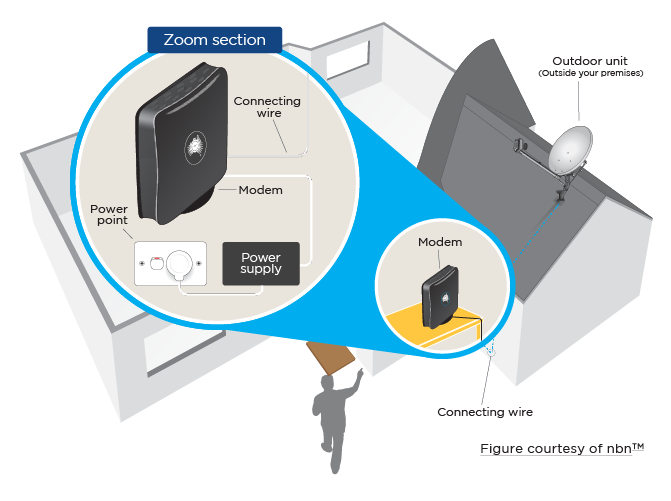 How do I prepare for the installation?
There are a number of things that you can do to prepare.
Permissions - on installation day the technician will need to ensure that there is permission to carry out the installation. This means that an adult (18+) needs to be home to sign the documents. If you rent the property, permission from the landlord is required.


Equipment location – you should consider where you want the equipment to be installed. This may require some preparation of the area.



The satellite dish

– this should have clear line of sight of the north sky. The dish may be attached to the roof or the wall of your property.



Wiring

– the satellite dish is connected by wiring to the internal modem



The internal modem

– this is installed inside your premises and needs a power source to work.



The router

– this plugs into the modem and should be located near the place that you will be using the internet connection the most (e.g. home office). The closer the router is to the computers or devices that you use the better the performance is likely to be. Walls, ceilings and floors may affect the signal, especially in some older buildings. Your Wi-Fi signal might have some interference problems if it is located near other appliances or household electronics, such as fridges or microwaves.
What happens on installation day?
Prior to installation nbn will confirm that the appointment still suits you.
When the nbn technician arrives they will inform you where they are from and show you their I.D.
The nbn technician will then examine your property and recommend the best location for the equipment. They will also confirm any other dishes that require de-installation.
The equipment location should also suit your use of the equipment, so you should clearly explain to the technician where you use the internet in your house to ensure that the location suits you.
Before work commences they will seek your permission to carry out the work.
The technician will then install the equipment. This may take a few hours and you will need to remain on your premises for the duration of the installation. Your property should be left in a good condition.
How big are the satellite dishes?
Most houses will receive the standard satellite dish which is 80cm in diameter. A few houses may need a larger 1.2m dish.
Is there a waiting list available to see how long it takes to get a service before signing up?
No, there is no published waiting list. Your retail service provider can give you an indication of the earliest possible connection date but is not able to guarantee it. nbn will guarantee your installation date once your retail service provider has processed your order.
Can I use my current equipment?
You need a new nbn satellite dish and modem to access Sky Muster.
You may be able to use your current router. Ask your retail service provider about this.
What power is required to run the equipment?
The nbn equipment is powered by 240V AC. If your premises is not connected to the grid ask your retail service provider about a 12/24 V DC option, which may be more suitable.
The router will also require power to function.
What if my house is not a standard installation?
Some properties will be a 'non- standard installation'. This means that they require a variation to the standard set up. Non-standard installations may incur additional costs.
When the nbn technician assesses your house, they will discuss any variations that are required. At this stage you can cancel your service at no cost if there are additional charges which you were not aware of.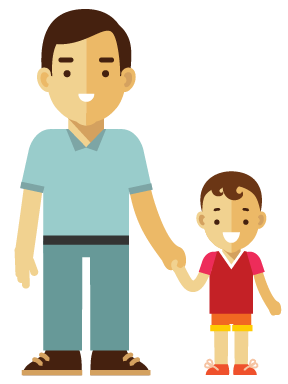 IMPORTANT

Any additional costs will be paid through your retail service provider, not the nbn technician.

nbn technicians will never ask for money and you should never pay them directly.