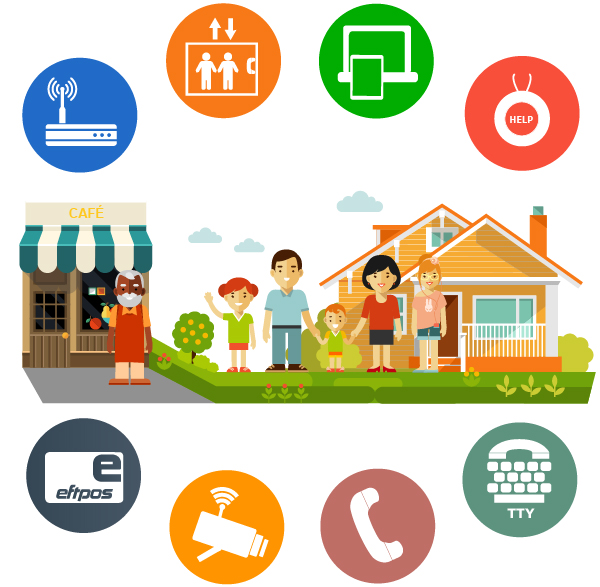 What to do you if cannot get a broadband service while waiting for nbn to reach you

A number of households may be struggling to get a broadband service while waiting for nbn. We have prepared the Get Connected section to answer questions on why households may not be able to get a service and suggest alternative options that may be available.
The Government has committed to providing superfast broadband to all premises in Australia.
Broadband is a fast, always-on way of linking your premises to the internet and other services (such as videoconferencing, security monitoring and health monitoring services). Superfast broadband is capable of achieving 25Mbps and greater speeds.
To deliver superfast broadband to all premises the Government has created a company called the National Broadband Network (nbn) to modernise broadband infrastructure across Australia. In certain areas other companies may also provide this new infrastructure.


What services will this change affect?
Many services and equipment use telecommunications infrastructure, such as phone and voice service, internet, fax, medical alarms, security alarms, EFTPOS machines and elevator phones. These services and equipment may be affected.
Most voice services in Australia will be delivered over superfast broadband (called a VoIP service). Services will be of similar quality to the current technology.
Consumers in the satellite and fixed wireless areas will continue to have access to their current copper based voice services.


What are the benefits?
Providing all premises with superfast broadband will have two key benefits:
1. ACCESS
nbn will improve access and performance of broadband services across Australia, which has been very mixed. The Government initiative to provide superfast broadband to all premises will improve everyone's access to and experience of broadband.
2. CHOICE
Currently many consumers can only access services from one provider.
As part of the initiative, the Government is aiming to increase competition between retail service providers (RSP's – i.e. Telstra, Optus, TPG, iiNet).


What infrastructure is being used?
nbn and the other infrastructure providers can determine which technology they will use once they meet the superfast broadband criteria (capable of delivering 25Mbps)
There are a range of technologies that can deliver superfast broadband. Premises will be connected through one of three technologies:
Fixed line technologies (such as Fibre optic cabling, Hybrid Fibre Coaxial (HFC), Very-high-bit-rate Digital Subscriber Line (VDSL), Fibre to the Node (FTTN), Fibre to the distribution point (FTTdp), Fibre to the Basement (FTTB))


Fixed wireless technologies, or


Satellite technologies


Who will supply superfast broadband to my premises?
For the vast majority of premises nbn will be upgrading and supplying the superfast infrastructure.
Some premises, especially in new or Greenfield developments, might have their superfast infrastructure supplied by another provider.


How to find out when you will get connected
Please check the nbn website to see how and when your premises will be supplied with a superfast broadband connection.
If your premises is in a new development; check the 'New Development map' to see who is providing the infrastructure.
Modernising the broadband infrastructure across Australia is a difficult task that will take a number of years to complete. It is expected that all premises will be served by superfast broadband infrastructure by 2021.
For further information and advice on how to connect, how to choose a plan, and what to do if there is a problem continue reading.
Note: you should always check for current information with your service provider when making decisions about phone or broadband services.