Events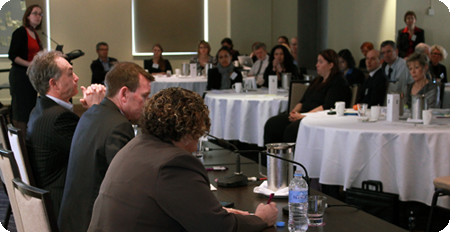 As part of our commitment to community and industry consultation, ACCAN runs and attends a number of events each year. Our current and upcoming events are profiled on this page. ACCAN encourages its Members to profile their communications events through our website.
If you would like any further information regarding our events, or to include your event on our site, please contact us.
You can see the transcripts and speakers' presentations from ACCANect 2019: Communications + Consumers: The next ten years on the conference event page. If you are looking for information regarding past events it can be found in the events archive.
Brain Injury Awareness Week
Brain Injury is common. Over 500,000 Australians have an acquired brain injury. Three out every four of them are aged under 65. Nick Rushworth, Executive of Brain Injury Australia, explains Traumatic Brain Injury (TBI) below as part of Brain Injury Awareness week:
ACCAN National Conference and Consumer Summit 2010
Consumers, government, regulators and industry are all stakeholders in a radically shifting communications environment. Together we are responsible for shaping a competitive, efficient and fair communications market that deliver all the potential benefits of affordable, available and accessible communications services to end users.

The 2010 ACCAN National Conference and Consumer Summit asks participants to think about the opportunities and challenges that we face in the provision of essential communications services in a digital age. We'll explore opportunities to make the market work better for consumers, with a strong emphasis on actively ensuring no-one is left behind.
Read more: ACCAN National Conference and Consumer Summit 2010
Cyber-Security Roundtable for People with Disabilities
This Roundtable will hear about current cyber security issues from leading advocates in the disability sector, as well as discussing industry and government initiatives designed to create a safer online experience. The Roundtable will identify what people with disabilities need to protect themselves online.
Read more: Cyber-Security Roundtable for People with Disabilities
Consumer Meeting: Bill Shock and Data Downloading
Learning how to use and monitor your download usage effectively is the best protection against high bills. This ACCAN Consumer Meeting will provide information about how to avoid bill shock as well as assistance for case workers advising consumers about how to get redress for any complaints related to download bill shock.
Read more: Consumer Meeting: Bill Shock and Data Downloading
ACCAN Seminar: Responsive Regulation and Policy
Australian Communications Consumer Action Network held an afternoon seminar on 4 November, looking at responsive regulation and effective policy making, and how engagement with consumers can be enhanced to get better results. This forum looked beyond the current, sterile stand-off between consumers on one side and policy makers and regulators on the other to meeting each other's needs.
Subcategories