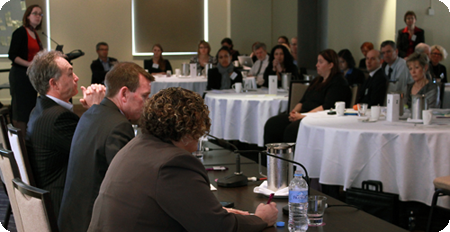 As part of our commitment to community and industry consultation, ACCAN runs and attends a number of events each year. Our current and upcoming events are profiled on this page. ACCAN encourages its Members to profile their communications events through our website.
If you would like any further information regarding our events, or to include your event on our site, please contact us.
You can see the transcripts and speakers' presentations from ACCANect 2018: Confidence in the connected world on the conference event page. If you are looking for information regarding past events it can be found in the events archive.

Date: 11-12 September 2019
Venue: Aerial UTS Function Centre, Sydney
ACCAN is constantly striving for improved, consumer-friendly, telecommunications services for all Australians. This year we celebrate a decade of bringing the consumer voice to the telco table.
ACCANect 2019 will provide an opportunity for consumers to reflect on the last 10 years of change in telecommunications and to hear about the challenges and triumphs that consumers have faced. We will also look to the future and hear from our guest speakers about the current trends and increase in demand for telecommunications services towards 2030.