Latest News
New NBN switchover rules - Autumn 2018
Details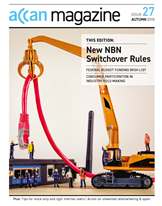 Download:

ACCAN Magazine Issue 27 Autumn 20184.5 MB (Note: reading order not accessible)
Download accessible version:
ACCAN Magazine Issue 27 Autumn 2018 - accessible version44.2 KB
Supporting World Consumer Rights Day 2018
Details
Today ACCAN is celebrating World Consumer Rights Day. The theme this year is 'Making digital marketplaces fairer' and Consumers International is calling for access to fair and secure internet for all, action against scams and fraud, and better consumer protection online. As a member of Consumers International, ACCAN supports this initiative.
"Consumers need to be wary of scams and online fraud which can come in different shapes and sizes," ACCAN CEO, Teresa Corbin said. "We urge consumers to sign up to Australian Government scam alerts to stay on top of these issues and report scams when they encounter them."
Consumers can stay informed about scams by following Scamwatch and Stay Smart Online. They can learn about cybercrime from the Australian Cybercrime Online Reporting Network (ACORN). Scams can be reported on the Scamwatch website and cybercrime can be reported on the ACORN website. ACCAN also has a tip sheet to help consumers avoid phone and internet scams.
New rules to improve telco complaint handling
Details
ACCAN welcomes the ACMA's announcement today of a consultation on proposed new rules that cover telco complaints handling processes and monitoring. This announcement is especially timely given that 15 March is World Consumer Rights Day – a day to raise awareness about consumer rights and needs. Today's announcement follows the launch of the ACMA's analysis of the consumer experience moving to the NBN late last year and an announcement of new telco rules from the Minister of Communications and the Arts.
"The experience of migrating to the NBN has shone a light on the inadequacies of the current regulatory framework to support the delivery of essential telecommunications services," ACCAN CEO, Teresa Corbin said. "Once in place these new rules will ensure that the regulator has better tools to ensure practices of telco providers improve.
"We congratulated the Minister last year for using his powers, and taking these steps to protect consumers. This consultation on complaints handling and monitoring is the first step in implementing these new rules which we hope will greatly benefit consumers.
Subcategories